Speakers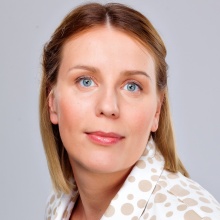 Polina Denisenko
Corporate Communications Director, Nutricia Russia
• Over 15 years of experience in corporate affairs, reputation management and marketing communications, both in the corporate and in the consultancy sector.
• Over 4 years of experience in management and consulting for leading communications agencies in Russia.
• 2 higher educations: University degrees in Psychology and in Marketing + degree in marketing management from Manchester Business School (UK).
• Professional media coach (media trainings to top managers of World Bank, Bayer, Efes, Nycomed, Mitsubishi Electric, DHL, OAO Vympelcom, Ministry of Internal Affairs of RF, Rosbank, BSGV, AstraZeneca, Nutricia, etc.).
• Expert speaker at international PR seminars (Switzerland, Netherlands, UK, Italy, USA, France, etc.)
• Visiting lecturer teaching courses of integrated marketing communications at the Higher School of Economics.
• Key practices: Reputation management and PR, crisis management communications, corporate communications and GR, CSR, internal communications, marketing communications.
Corporate Communications Director, Nutricia Russia