Speakers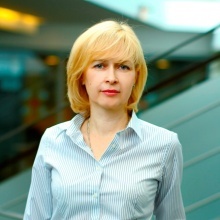 Elena Sosnovtseva
Former Communications Director at Absolut Bank
Elena Sosnovtseva is the former Communications Director at Absolut Bank's HQ based in Moscow, Russian Federation.
Elena graduated from the National University of Economy as a professional economist and has an additional diploma in PR and Communications. Currently, she is doing a MBA course in Marketing Management.
Elena is a leading expert in financial communications, with almost 10 years of experience. She worked in well-known financial institutes and banks such as BSGV (Societe Generale Group) and VTB Capital. In 2011, Elena was appointed for the position of Communication Director at Absolut Bank.
She is a member of several Russian and International business and communications associations and also one of the council experts for the Silver Archer AWARD contest which rewards the best communicators in Russia.
Former Communications Director at Absolut Bank