Speakers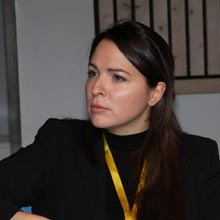 Kerry Bridge
Global Digital Media Comms Manager at DELL Public Sector
Kerry Bridge is a Global Digital Media Communications Manager at Dell Public Sector. She is part of Dellís Global Corporate Communications team, reporting to the Global Communications Director for Dellís Public Sector business unit.

Kerry leads Dellís approach to social media communications worldwide for the Public Sector business. As well as leading a team, Kerry manages Dellís Enterprise blog (Inside Enterprise IT), and forms part of Dellís global social media leadership team. Together they drive Dellís outreach to customers and key stakeholders by proactively joining relevant conversations on the web and managing the companiesí blogs, wikis and forums. You can connect Kerry on Twitter: @KerryatDell.

Kerry has ten years experience in national and multinational blue chip communication environments. Prior to her current role, she has held various communications related positions at including digital media communications, public relations and internal communications at a European level.
Global Digital Media Comms Manager at DELL Public Sector