WCF | Zeppelin View 2016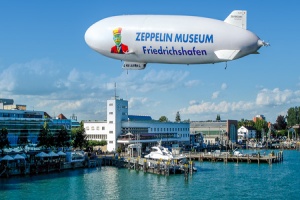 WCF | Zeppelin View 2016
Thematic Session in partnership with Kaiser Communication GmbH
Hosted by the Zeppelin Museum
Zeppelin View
Influential Communications:
Global Technological and Scientific Development
07 March, 2016
Friedrichshafen, Germany
Focus on: Research, Science, Technology, Communications
Venue: Zeppelin Museum Friedrichshafen GmbH
Seestraße 22, D-88045 Friedrichshafen, Germany
Facebook event & real-time coverage: here
Twitter hashtag & real-time coverage: #WCFDavos
Entry terms: here + Online application & payment: here
Official Partner:
Moscow Institute of Physics and Technology
9 Institutskiy per., Dolgoprudny, Moscow Region, 141700
Russian Federation
press@phystech.edu, +7 (929) 992 27 21
--------------------------
Book a hotel: here
6th March 2016
19:00 - 21:00
Welcome party.
Location: SEEhotel Friedrichshafen
Address: Bahnhofplatz 2, 88045 Friedrichshafen, Tel .: +49 (0) 7541-303-0
Dress code: casual
7th March 2016
8:30 - 9:00
Registration of participants.
9:00 - 10:30
Tour around the Zeppelin Museum.
A guided trip, visiting the main halls and exhibitions.
10:30 - 11:00
Coffee break & networking.
11:00 - 11:30
Opening of the session. Welcome speeches.
Zeppelin View Moderator:
Elena Brandt, Head of PR, Moscow Institute of Physics & Technology (Russia)
Welcome speeches:
Dr. Stefan Köhler, First Mayor of Friedrichshafen, Germany
Dr. Claudia Emmert, Director of the Zeppelin Museum of Friedrichshafen, Germany
Yanina Dubeykovskaya, General Director of the WCF summit in Davos, Switzerland
Guntram Kaiser, CEO of KaiserCommunication, WCF Committee Member & Exclusive Rep, Germany
11:30 - 12:30
Zeppelin Cases.
Leading experts from the field of Science, Business and Communication will share their vision on the historical role of the Zeppelin and the 1937-crash's impact on the development of the industry.
Interactive discussion with the audience:
Can the Zeppelin's story be retold? Can a new brand and a new strategy revive these beautiful airships and bring them back to active use?
Speakers:
Elena Brandt, Head of PR, Moscow Institute of Physics & Technology (Russia)
Prof. Dr. Bernd-Helmut Kröplin, Founder of TAO-Group, CEO of TAO Neue Antriebstechnologien GmbH (Germany)
Thomas Brandt, CEO of ZLT Zeppelin Luftschifftechnik GmbH & Co. KG (Germany)
12:30 - 13:30
Issue management.
A session related to air/transport/technological accidents and the following crisis-management periods.
Actual case-studies with effective anti-crisis strategies shared by Directors in Communications.
Moderator:
Guntram Kaiser, CEO of KaiserCommunication, WCF Committee Member & Exclusive Rep, Germany
Speakers:
Dominique Fouda, Head of Communication and Quality, European Aviation Safety Agency (EASA)
Kirill Shilov, Founder / CEO and Lead developer of Sky-Drones.com (Russia)
13:30 - 15:00
Lunch & Quadrocopter View!
Location: Zeppelin Museum Restaurant
Address: Seestrasse 22, D-88045 Friedrichshafen Phone: +49 (0) 7541-95300-88
15:00 - 15:45
Flight technology.
A session about the dynamics, the secrets and the evolution of flights.
- Ecosystem Drones.
- Aircraft of the future.
Rob Duivis, GE 90 Program Manager at KLM Engineering & Maintenance (Netherlands)
Scott E. Fahlman, Professor of Computer Science at Carnegie Mellon University (USA), specializing in AI. Will discuss the vision, control, and user-assist technology required for autonomous drones, flying cars, etc.
15:45 - 17:15
Communication strategies for technological breakthrough.
Step-outs of chief editors and journalists from leading scientific periodicals with successful communication strategies.
Jamie Vernon, Ph.D., Editor-in-Chief at "American Scientist", Director of Science Communications & Publications at Sigma Xi (USA)
Pranbihanga Borpuzari, Assistant Editor at Economic Times Online (India)
Alexander Potapov, Deputy CEO and Managing Director at RVC (Russia)
17:15 - 17:30
Closing of the session.
Summary with key conclusions.
--------------------------
Book a hotel: here