Speakers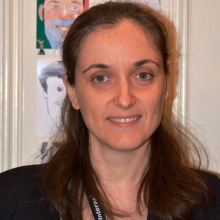 Elvana Thaci
Officer at the Internet Governance Unit, the General Directorate of Human Rights, and the Rule of Law at the Council of Europe
Elvana Thaçi works at the Internet Governance Unit, in the General Directorate of Human Rights and Rule of Law of the Council of Europe.
She has participated in the elaboration of a number of Council of Europe policy instruments on human rights and freedoms on the Internet, in particular with regard to the protection of freedom of expression and freedom of association. Also, she has been actively involved in Internet governance dialogues at the European Dialogue on Internet Governance and the Internet Governance Forum.
She participates, on behalf of the Council of Europe, in the Governmental Advisory Committee of the Internet Corporation for Assigned Names and Numbers.
She is currently co-ordinating Council of Europe's activities relating to the development of a compilation of human rights standards to enable Internet users to understand and exercise their rights online.
Officer at the Internet Governance Unit, the General Directorate of Human Rights, and the Rule of Law at the Council of Europe