Speakers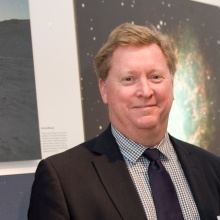 Terry O'Connor
Head of Communications for STFC
Terry O'Connor MCIPR is the Head of Communications for STFC, a UK government science agency which is one of Europe's largest multi-disciplinary research organisations with responsibility for managing UK membership of major European research facilities including CERN, funding particle and nuclear physics, astronomy and space science research, operating large research facilities for an extremely wide range of physical sciences and life sciences, as well as software and high performance computing development and applications, and translating research outcomes into positive societal and economic benefits.
A member of the senior leadership team, Terry leads on all aspects of communications, including reputation, marketing communications, issues management, internal communications, media and online.
Prior to joining STFC in 2008, he held similar positions for a range of Australian Government bodies including the national air traffic control company and the national trade facilitation body.
His early career was as a reporter for the Australian national wire service AAP, rising to Chief Political Correspondent, before working for a Government minister as press secretary and then senior policy adviser.
Head of Communications for STFC