Speakers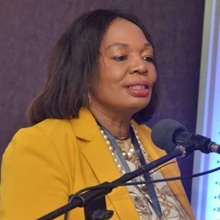 Mabel Chileshe Luo Mung'omba
Consortium's Local Representative for Zambia
Mrs Mabel Mung'omba has more than 20 years' work experience at Senior executive management levels in Zambia, Sub-Saharan Africa and the global world in the private, consultancy and public sectors. She has served as Director-General of the Citizens Economic Empowerment Commission and several Corporate Companies in Zambia. Mrs. Mung'omba is also a process facilitator in transformational leadership.  In her previous background, she has extensive experience in working in the public and private sector and in organising and facilitating training. She is a Certified Organisation Development expert and also a Result Based Management trainer. She worked with international teams of trainers and facilitators in leadership development and management covering Africa, Asia, UK and Europe for over 10 years.
She is an independent consultant at Belcomm Limited and also the SIPU Consortium's local representative responsible for the contact with the Swedish Embassy regarding the questions related to the organisation of consultancy services under the Framework Agreement for Agriculture, Employment and Market Development for the whole contract period. Mabel is an associate of the Presencing institute of MIT, Bright Green Learning in Switzerland and the British council.
Mabel is also currently Lead Consultant and CEO of Upstart and Belcomm Limited, two company's' that she co-founded. She recently implemented several on-going assignments include through Belcomm Ltd e.g. The GIZ funded Management, Leadership and capacity building program for the Ministry of Finance where she was team leader in charge of design and execution. Besides, she is a lead consultant on the World Bank Funded Marketing and Branding project for Institute of Purchasing and Supplies under the Public Financial Management programme and she is also a member of facilitating team implementing a strategy alignment, change management and value training for Alliance One in Malawi having responsibility for both design and execution. Mabel was recently involved in the DFID and UNDP funded program to do gender mainstreaming and leadership for the government of Zambia. Mabel was the Chairperson of the team that led the design of the current Branding and logo design of the Buy Zambia Campaign whose foundation has informed the work on rebranding Zambia up to now.
Locally, Mabel is involved in a number of routine consultancies with corporate companies and public sector organisations. She also works with a number of SME organisations, assisting them with development of skills and capacity for enterprise development. The focus of her work is Ecosystem and transformational Leadership, Change Management, strategy development, Branding and communication, Marketing and Sales management and Organisation Development.
Membership of professional bodies: Chartered Institute of Marketing UK, Institute of Human Resource Zambia, Member of Pan African Facilitation Team for the British Council, Partnership Broking Associate, and Presencing Institute associate (U - Theory).
Other skills: (e.g. Computer literacy, etc.) computer literate, very good programme design and facilitation skills, certified RBM and organisational development trainer.
Consortium's Local Representative for Zambia