Speakers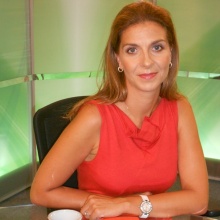 Secil Sendag
CEO of 360 Iletisim (Turkey)
Seçil Şendağ is a veteran PR and marketing strategist, a consultant, a former corporate executive, an entrepreneur and a professional trainer. She also works voluntarily for non-profit organizations to give back to the community.
Seçil,  is the founder of 360 İletişim (360 Communication), one of the top PR agencies in Turkey. Besides providing ongoing PR consulting & counsel and offering integrated PR and marketing services to national and international clients, the agency also executes prominent social responsibility projects.
Starting off on her career in media after receiving a degree in sociology, Seçil Şendağ worked as an editor and a manager at various top-tier magazines/newspapers and as a producer on TV programmes. Before Seçil transferred her experience in communications to her own agency, 360 İletisim, she worked at some of Turkey's leading banks and holding companies as a senior corporate communications executive. Furthermore she had major responsibilities with the execution of the international events such as EU Roadshows and WEF.
Seçil and her team at 360 İletişim mainly work with brands –like Chobani- that focus on creating social good and they believe that it takes creative approaches to bring together all the required actors for this purpose. They also execute the Financial Literacy Project of Türk Ekonomi Bankası (TEB-Turkish Economy Bank) withTurkish Ministry of Education; the Project aims to educate 6.5 million individuals about financial literacy. By reaching every other home in Turkey, this project has won many international and local awards.
As a volunteer at Darüşşafaka Association -Turkey's first non-governmental educational organization for students whose mothers and/or fathers are deceased- Seçil carried out one of the largest corporate philantrophy projects in Turkey between 2008 – 2010.
Seçil, together with the Ministry of Family and Social Policies of Turkey, acted as a consultant to the "To be a Family"  (2013) project that aims to empower women and she continues to give seminars to improve gender equality and women's participation in all aspects of society. She also educated entrepreneurs on marketing as a trainer in JP Morgan's "10.000 Women" project.
Seçil Şendağ as a part of her role in KAGİDER (Women Entrepreneurs Association of Turkey), presented  "Women Leaders of the Future" project within the scope of CSW 61 at the UN on March 2017.
In addition to being a TEDx speaker, Seçil also gives lessons at İstanbul Commerce University, facilitates and speaks at seminars all around Turkey and occasionally writes opinion pieces at various magazines.
Seçil Şendağ is a board member at KAGİDER (Women Entrepreneurs Association of Turkey) and FODER (Financial Literacy and Inclusion Association) and Ballotage member at TUHİD (Turkish Public Relations Association).
Seçil is the mother of two sons.
CEO of 360 Iletisim (Turkey)