Speakers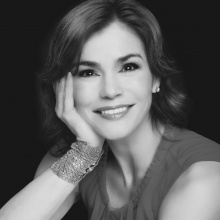 Loren Ferre
Chief Creative Officer of Grupo Ferre Rangel (USA)
An expert in new product development, consumer insights and creative integration, as Chief Creative Officer, Loren directs Grupo Ferré Rangel's innovative approach to the search of business opportunities through creative output.
Her team explores trend lines in design, advertising, marketing and consumer behaviour to help develop new business ventures and guide new product development. She also leads the development of the unitary artistic design strategy and storytelling narrative that defines the company's brand.
_______
Loren Ferré Rangel was appointed Chief Audience Officer of GFR Media in 2015.  She focused on providing clients efficient and effective business solutions based on audience segments, whether they are print, desktop, mobile or social.  During this time, she also held the position of Chief Marketing Officer overseeing brand strategy for END, PH and INDICE. In 2012, she launched ÍNDICE, a free media product targeting millennials. In 2013, she introduced BrandShare, a commercial content solutions service that connects audiences to brands – bringing brands closer to consumers.
Prior to her appointment as General Manager for INDICE, she was Vice President of New Products at El Nuevo Día, where in 2007 she launched SAL, a multiplatform restaurant guide and SAL AWARDS.  From 2002 to 2007, she oversaw the Sunday magazine publications for El Nuevo Día newspaper.  She began her career in the family business in 1996 as owner representative of the real estate development project City View Plaza but, quickly assumed new projects and collaborated in the launching and positioning of a new popular newspaper, Primera Hora.
Education:
Bachelor of Arts in French & Philosophy, College of the Holy Cross.
Phi Betta Kappa, Academic Honor Society
Pi Delta Phi, French National Honor Society
Phi Sigma Tau, International Honor Society in Philosophy
Master of Arts in Preservation Studies, Boston University, Honors
Certificate in Museum Studies from Boston University, Honors
Associate Degree in Applied Science in Interior Design from New York School of Interior Design, Honor
Associations:
Ellevate
Network
Are we there yet? /Conversations with Men
Awards:
2000 Sales and Marketing Association, Marketing Excellence Award. Primera Hora
2001 College of the Holy Cross, Sanctae Crucis Award for Distinguished Alumni. Given to those who, as leaders in business, professional or civic life, live by the highest intellectual and ethical standards and whose private business or professional affairs are imbued with hard work and integrity.
2008 Sales and Marketing Association, Marketing Excellence Award, SAL
2012 World Association of Newspapers and News Publishers, World Young Reader Prize, LOGON
2013 Sales and Marketing Association, Top Management Award
Boards:
Centros Sor Isolina Ferré
Grupo Ferré Rangel
GFR Media
Interests:
Running, hiking, training & outdoor sports
Design, graphic design, architecture, art & fashion
Meditation, Ayurveda, and wellness programs
Literature & language
Chief Creative Officer of Grupo Ferre Rangel (USA)