Speakers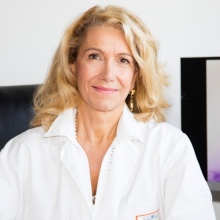 Patrizia Paterlini-Brechot, MD, Ph.D.
Oncologist, Hematologist & Molecular Biologist at Faculty of Medicine, Paris Descartes (France)
Prof. Patrizia Paterlini-Bréchot is Oncologist, Hematologist and Molecular Biologist. She is a Professor of Oncology/Molecular Biology at Paris Descartes University- Necker Hospital, with a triple task of research leader, academic teacher and hospital practitioner.
Author or co-author of more than 120 peer reviewed scientific articles, and inventor or co-inventor of 7 patents, Prof. Paterlini-Brechot published fundamental studies on liver carcinogenesis and calcium signaling. She then developed and patented with her team the method ISET (Isolation by SizE of Tumor/Trophoblastic cells) allowing the sensitive isolation from blood of intact circulating tumor and fetal cells without loss and without the use of antibodies, now recognized as a breakthrough in the fields of predictive oncology and non-invasive prenatal diagnosis.
ISET has been proven to be a unique blood test allowing early detection of tumor invasion as a way to diagnose invasive cancers before imaging. The same ISET approach, followed by single cell molecular analyses, has been proven to provide non-invasive prenatal diagnosis of recessive disorders like cystic fibrosis and spinal muscular atrophy and is potentially valid for all types of genetic disorders. In 2009 she founded the company Rarecells, which has the exclusive license of the ISET patents belonging to the French Public Institutions to bring the ISET tests to the public. Her work has been rewarded by several prestigious Prizes and Awards.
Oncologist, Hematologist & Molecular Biologist at Faculty of Medicine, Paris Descartes (France)