Speakers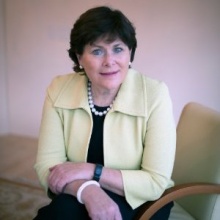 Anne M. McCarthy
Founder & CEO of Westmeath Global Communications (USA)
Having spent more than 25 years in corporate communications serving Fortune 500 companies in the United States, Europe and Asia across various industry segments including technology, financial services, health care, engineering and consumer packaged goods, Anne has lived everywhere from Tokyo to Amsterdam and a few spots in between. Now based outside of Denver, she has a wealth of global contacts that she taps into who are active members of Westmeath's Netsortium™.
Prior to launching Westmeath Global Communications, Anne led large communications and marketing programs at Sara Lee Corporation, IBM, Polaroid, DuPont, SAP, Western Union and CH2M HILL.
But Anne doesn't just shut her laptop down when she wraps up client work. Her spirit for her industry has propelled her to serve on several professional and non-profit boards, including the Arthur W. Page Society, the Woodrow Wilson International Center for Scholars, the Denver Museum of Nature & Science and Domus Pacis. Additionally, she is a former trustee of Alliance for Choice in Education and Colorado Uplift.
Anne participated in the Summit on the Global Agenda (World Economic Forum), and was named one of the Business 100 by Irish America magazine (2009-2013). She participates as a guest lecturer at the Leeds School of Business (University of Colorado) and Michigan State University's College of Communication Arts and Sciences. She is actively involved with the American Ireland Fund and the Aspen Ideas Festival. In 2014, Anne designed and introduced The Thread Summit, a signature conference for marketing and communications professionals in the Rocky Mountain region.
Anne earned a Bachelor of Arts degree in journalism from Michigan State University and has completed executive education programs at The Wharton School at the University of Pennsylvania and at INSEAD at Fontainebleau.
Believe it or not, Anne does have time for herself! She makes her home in Colorado and she enjoys tennis, golf, biking and skiing, and is a dual citizen of the United States and Ireland. Anne loves to travel the globe.
Anne toasts St. Patrick's Day with an Irish coffee (topped with whipped cream).
Founder & CEO of Westmeath Global Communications (USA)