Speakers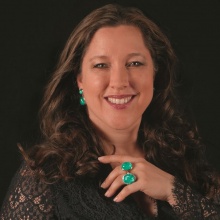 Doris Hangartner
Founder & CEO of DORIS HANGARTNER AG (Switzerland)
Doris Hangartner is a graduate gemologist (GIA) with more than 25 years of experience. She is the founder of Doris Hangartner AG, a Swiss high end jewelry company, based in the heart of Zurich.
Each gem is individually selected by Doris Hangartner herself, according to their quality, color, cut, size and provenance.
It's all about experiencing high quality gems with all five senses.
Doris Hangartner displays her exceptional collection of mesmerizing gems and luxurious bespoke jewelry at private events all around the world.
Doris Hangartners passion is to connect people with the beauty of nature. Her goal is to let the gems shine. The people wearing them, automatically do too.
Founder & CEO of DORIS HANGARTNER AG (Switzerland)