Speakers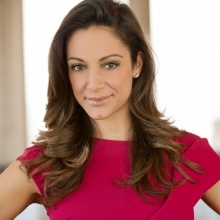 Francesca Lana
President & co-founder of NetworkHER, Founder & Director of ERA International (UK)
Iíve always known I wanted to be a mother and have a career. Despite knowing I wanted to have a family, the decision of when to start was less clear, as it is for many women. I love children and I love to love. Having my daughter Angelica has changed my life for ever. I feel deeply fortunate to be her mom and only now I have realized what real love is. Through her I have discovered the deepest, the purest and the most profound unconditional love.
Iíve been fortunate to be able to build my career around my passions, from real estate to my global community of women NetworkHer. As a business entrepreneur, I am incredibly committed to my work but more importantly my priority remains my role as a mother.
Being a mother is my greatest passion. Being a mother has made me a better person, a better entrepreneur and a more effective leader. I am now more patient, I am more aware, I feel things on a deeper level. I have a new understanding about my body and about being a woman. I improved essential skills that are transferable to my business: I prioritize, plan and organize much better now, I am better at listening, communicating and trusting my intuitions.
Pregnant women show increased activity in the right side of their brain, the area related to emotional skills, as they prepare to bond with their babies. These skills are transferable to business. Mothers have an innate ability to listen, nurture the ideas of others and create loyal teams. Juggling the responsibilities of being a mum, a wife and a business woman can be very demanding on your time. Mothers are by definition more resilient and better at coping. We are multidimensional and capable of multitasking!
The woman who influenced me the most and who mattered the most was and still is my mother. My mom is one of my greatest sources of support. She is a dynamic woman who maintains the highest standards of all aspects of her life, a true feminine lady in a male industry, politics. She taught me one important lessons through her own example- there is no role more essential and more eternal than that of being a mother. We never truly know the love of our own parents , until we become parent ourselves.
Iím inspired by the current president of Libia, Ellen Johnson Sirleaf. She is the first woman elected head of state in Africa. She said ďIf your dreams do not scare you, they are not big enough.Ē If there is an area where I know I can do more, itís to dream bigger-for my self, for my daughter, and for all the women in the world.
We live in a age where traditional standards and values are being questioned. This is not new it is happened throughout the ages. As a mother both biologically, and by innate common sense there are certain truths which are not variable. Today it is perhaps ďold-fashionedĒ yet necessary to resubmit our lives to these truths. We live for our children, we raise them to respect themselves and those around them, to believe in God and the basic truths which have emancipated man and women over time. Guiding our children to pursue their passions indeed there self interests and guiding them in the same is a timeless act and virtuous role of all of us so blessed to be mothers.
As we all know from our own parents, parenting can be the toughest job but for sure the most rewarding. When you are a mother and you run your own business , there are sacrifices like lack of sleep and less time for friends, but it is all worth. Motherhood, just like Entrepreneurship is not a 9-5 job. Some days I stay up till 3 am working and then I wake up at 7AM to organize Angelicaís day. Going back to work after having a baby can be very hard especially if you are breastfeeding and during periods of separation anxiety . Every day is a roller coaster of emotions. But women are so incredible and able to face any challenge for the success and the happiness of our children. When you become a mother , you learn about your inner strengths you didnít know you had and fears you never knew existed.
I would say my greatest triumph as a new mom is that I was able to put my daughter on schedule since she was 3 months old. Angelica has a perfect routine and I worked very hard to achieve it. Having her sleeping through the night since the very beginning allowed me to get my work done and taking care of myself. Iíve been always so careful with food diet when I was pregnant, while I was breastfeeding and when I weaned Angelica. She is 15 months now and I am so glad that she never had any health problem so far. I dedicate my life to her and to her health. Angelica understands perfectly 4 languages and she is very confident under water due to our swimming classes since the early age of 3 months. †I am a big believer that kids absorb like sponges everything around them, if you talk to them , if you sing and dance for them , if you create an healthy and positive environment around them , they will grow up and develop happy and content. I am proud of many things in my life, my flourishing real estate business, NetworkHER and my marriage with Robert. †But nothing is more gratifying than being a mother.
There is no one way that works for everybody to balance work and life. The priorities are constantly shifting, sometimes we have to work more and sometimes, we have to spend more time with our families. Itís a give and take. But there are some things you can do to make it all a bit more manageable. First of all let go of trying to be perfect. If you obsess like I am on making the perfect 5050 balance life at home and business, you will fail at both or just have a mental breakdown. Be kind to yourself. Ban toxic people from your life. You donít have time already so donít waste it with pointless individuals. Donít over-schedule yourself. Create the job you want Ė family friendly companies, family-friendly-schedule.
The only way to balance a happy home and healthy business is to take care of yourself first, so you have the energy to care for all the needs of your kids and clients. It is crucial to prioritize your wellness. Most important component of wellness is sleep. Second to sleep, stay healthy, eat healthy. I donít have a strict workout routine but I try to go to the gym, exercise, walk or pray daily. Create a mental space and schedule daily ďmeĒ time. Manage your energy well. You canít be a good mom and wife if you are cranky. Reconnect with your spouse, weekly ďdate nightsĒ are a great idea. Stay focused, prioritize. Have a morning routine and a ďto-doĒ list. These are essential and make your life much easier. My daily schedule is usually a combination of Angelicaís needs, personal and business. This is the major reason of my success. Have a routine will make you more efficient and consistent. So as a consequence you will suffer less stress. Make technology work for you. For instance, it enables me to be with Angelica when she is awake and check email when she sleeps. Get up early. The earlier you get up, the more time you will have to accomplish your goals.
While we try to teach our children about life, our children teach us what life is all about. Donít just tell your children about your passion for your work, but show them how passion gets you out of bed every morning. If kindness matters to your family, donít just talk about it, live it in your interactions with others, and not just when it is easy, but when it is hard. When your husband or your kids are hungry, grumpy, tired, thatís when they need your compassion and caring most. Being the best example we can be for our daughters and sons includes respect for ourselves, for others and for the world. We are women who work at prioritizing our families and our passions alongside our professional aspirations. Women encourage team work, women create opportunities for women.
We help others to fly. We love to learn. We donít like dilemmas. We like solutions. We believe. We bring people together. We dream and do. We are inspired and we inspire. We own our femininity. We live to the fullest. We are determined, respectful, engaged, ambitious, motivated, dedicated, and optimistic. Always, no matter what! Thatís what being a mother is all about!

"OLD-FASHIONED"-STYLE BIO

Francesca Lana holds a first class honor degree in Literature and Philosophy at the University of Rome Tor Vergata, in Rome, Italy.

She is an international real estate advisor and the Founder and Director of ERA International, a global luxury realty brokerage.

She is the President and co-founder of Networker, an organisation that seeks to connect professional women around the world.†
With homes in Europe and America her business and non for profit activities are active on a global basis.

Francesca is the former President and co-founder of ILA (Influential Ladies Alliance), a multinational non-profit organization of successful entrepreneurial women.

She is a benefactor of the Kirsten Haglund Foundation and an active board member and supporter of other numerous charities and non-profit activities that support women and children.

She is also sits on the advisory board of the Robert F.Agostinelli Foundation, which provides support for veterans and broad based freedom agenda.
President & co-founder of NetworkHER, Founder & Director of ERA International (UK)