Speakers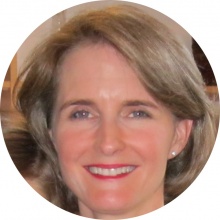 Carol Pouchol
Information Technology Manager - South Eu, Microsoft (France)
Carol Weiss Pouchol is an American who has lived in Paris for 25 years.  Carol originally came to France on an expat assignment for Microsoft Corporation in the role of Information Technology Manager for Southern Europe.  She met her future French husband and, after 7 years working for Microsoft in Europe and the birth of her 2 daughters, Carol decided to resign to become a full-time mother and volunteer.
Carol and her husband chose to educate their children in French schools from the age of 3 through 18 and it was only thanks to Carol's presence at home that the girls were raised to be not only bilingual but, more importantly, bicultural.  After graduating from French high school, both with highest honors on their French baccalaureate, the girls are thriving at Ivy League schools in the United States.
Carol can attest to the challenges women face when they choose to leave their high profile, intense careers to become full time mothers.  While staying available to her children, Carol also engaged in volunteer service with the United States Girl Scouts Overseas in Paris as well as with the girl's schools.  The latter experience helped her to navigate the French school system that was entirely foreign to her.
Information Technology Manager - South Eu, Microsoft (France)