Speakers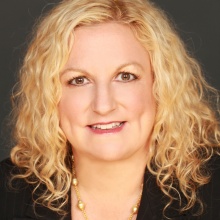 Carol Pepper
Founder and Chief Executive Officer of Pepper International LLC, New York City (USA)
Carol Pepper is Founder and Chief Executive Officer of Pepper International LLC, a family office and consulting firm located in New York City.
Numerous Awards
Pepper International is a highly respected firm that has received significant recognition in the financial services industry.  In 2016 and 2015, Carol was named one of the 50 Most Influential Women in Private Wealth by Private Asset Management. In 2016, Carol was also named to Citywealth Magazine's 2016 Leaders List in two categories:  Private Investment Offices and Power Women. In 2014, 2012 and 2011, Pepper International was nominated for Private Asset Management awards for Best MFO with AUM under $2.5 billion.  In 2009, Barron's named Pepper International as one of the top family offices in the United States.  In 2008, Pepper International LLC was awarded the Growth Leadership Award by The Family Wealth Alliance. Carol was named a 2007 Rising Star in Wealth Management by Institutional Investor News.
Family Office Services
Pepper International works with a select group of families to oversee all of their needs related to wealth management.  The firm has an expertise in Impact Investing and works with families who would like to have a strong focus on integrating their values into their investments and their philanthropy.  The firm also focuses on international families that have complex issues, such as family members with a variety of nationalities living in different jurisdictions.
External Chief Investment Officer
Carol acts as the External CIO to families and single family offices.  She oversees all asset classes and puts in place a comprehensive consolidated reporting system.  She previously managed over $1 Billion of assets as a Senior Portfolio Manager at Rockefeller & Co.
Family Office Set Up and Restructuring
Carol acts as a consultant to families that would like to create their own family offices and has built family offices around the globe.  She also helps restructure existing Single Family Offices to bring them to top global standards and to prepare them to work with the next generation.
Boards
Carol is on the Advisory Board for the Institute for Life Sciences Collaboration, www.ilscollaboration.org.  ILSC is focused on identifying and cultivating collaborative projects to further the United Nation's Sustainable Development Goals, with an emphasis on global health. She is the Treasurer of Small World Initative, www.smallworldinitiative.org, which works with girls to offer special hands-on school curriculum in the sciences.  She is on the Advisory Board of Clean Energy Advisors, www.cleanenergyadvisors.net. CEA creates investment opportunities in the renewable energy sector that provide clients with predictable income, preservation of capital, and positive impact. She is also on the Advisory Board of Radeeus, a start-up streaming company that allows users to listen to or watch content with their favorite celebrities or friends in real time, creating community experiences across multiple streaming platforms.
Global Lecturing & Media Interviews
Carol lectures extensively around the world on issues of interest to wealthy families.   She also appears regularly in the financial press and on television, including the Wall Street Journal, CNBC, Fox Business and Bloomberg, commenting on the markets.
Top Financial Services Experience
Carol has over 25 years of experience in the wealth management industry.  Prior to forming Pepper International in 2001, Carol had extensive experience as a private banker at JP Morgan Private Bank, Citibank Private Bank and Credit Suisse Private Bank. She managed over $1 billion of private client assets as a Senior Relationship Manager and Portfolio Manager at Rockefeller & Co., the multi-family office formed by the Rockefeller family. As a principal at Morgan Stanley, she was instrumental in creating a web-based virtual family office prototype.
Top Educational Background
Carol graduated cum laude from Bryn Mawr College in 1984 with a BA in philosophy and a minor in Russian language. She obtained an MBA in entrepreneurial studies from Columbia University Business School in 1989.
Published Books
Carol is co-author, with top journalist Camilla Webster, of The Seven Pearls of Financial Wisdom: A Woman's Guide to Enjoying Wealth and Power.  The book's website is www.thesevenpearls.com.  The book has received positive reviews from The Wall Street Journal, Economist Nouriel Roubini, Morgan Stanley Chief Investment Strategic David Darst, and CEO Liz Lange, among others.  The Seven Pearls was named one of the top five business books in 2012 by The Library Journal.Carol self-published her first novel, a wealth management thriller called Beyond Blood, in October 2009.  The book's website is www.beyondblood.com.  The book won a 2010 Indie Book Award and was named as an Editor's Choice Book by iUniverse.
Philanthropy
Carol has been involved in numerous philanthropic causes over the course of her career. Currently, in addition to ILSIC and Small World, she is assisting the Global White Lion Protection Trust in South Africa, www.whitelions.o
Founder and Chief Executive Officer of Pepper International LLC, New York City (USA)