Speakers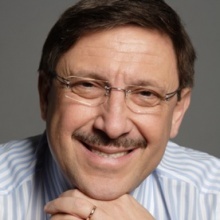 Maxim Behar
President of WCF, Co-Chairman of the Committee of WCFDavos, Chairman of Hill+Knowlton Strategies in the Czech Republic, CEO & Chairman of the Board at M3 Communications Group in Bulgaria
In 1994, Maxim Behar founded M3 Communications Group, Inc., the leader in the field of public and media relations in Bulgaria. Since then Mr. Behar is the company's Chief Executive and Chairman of the Board of Directors. The company's clients list consist of globally renowned brands in various fields, such as: energy, finance, technology, fast moving consumer goods, etc.
In 2012 Maxim Behar has been apointed Chairman of Czech operation of the world's leader in the field of Public Relations and Public Affairs Hill+Knowlton Strategies, former Hill & Knowlton Inc.
Mr. Behar has a Bachelor's degree in Engineering Economics and an Advanced degree in International Economic Relations from the Prague Economics University (Czech Republic). In 1981, during his studies, he begins his career as a journalist throughout Bulgaria, the Czech Republic, and Poland. He remained active in journalism until 1995. In 1992, he co-founded the "Standard Daily", one of the first private daily newspapers in Bulgaria and held the position of the Managing Editor.
Mr. Behar is fluent in Bulgarian, English, Czech, Polish and Russian. He can work and read in Slovak and Serbo-Croatian and is a beginner in Spanish. In the summer of 2004, he was appointed by the Seychelles President James A. Michel as Honorary Consul of the Republic of Seychelles to Bulgaria.
Career:
Since January 2012 – Chairman, Hill+Knowlton Strategies, Czech Republic Since December 1994 - CEO of M3 Communications Group, Inc.
1992-1994 - Managing Editor of "Standart" Daily
2010 - Treasurer and Member of the Executive Board of ICCO (International Communications Consultancy Organization).
2009-2011 - Chairman of the Board of the Bulgarian Association of PR agencies, now a Member of the Board, (Former Chairman) and member of the Board of tens of non-governmental and business local and international communities.
2003 - Founder and Chairman of the Board of M3 Communications College, the first and the only fully licensed college in Bulgaria for Public communication studies, associated with Manhattan Institute of Management in New York.
1997-2000 - Board Member and Executive Director for the Bulgarian Investment Forum.
2003 - with former Nevada Governor Bob Miller, he became a founder and shareholder of the major Bulgarian-American consultancy company Miller & Behar Strategies, successfully operating to promote US investments to Bulgaria and also to provide more information about US business environment to Bulgarian entrepreneurs. Now the company is called MB Strategies as Governor Miller reitired.
2003-2011 - Member of the Board of the High Jewish Supreme Council in Bulgaria
* Mr. Behar is also engaged in the social and cultural life of the country. He serves on the Board of several organizations including Junior Achievement Bulgaria, Atlantic Club in Bulgaria, he is a founder and Chairman of the Bulgarian-Polish Business Club and Founding member of Board of Trustees of Every Child Foundation. He initiated the foundation of two associations: the National Association of Journalists for the EU (1995) and the Bulgarian Association of Advertising Agencies and Professionals (1996).
Awards and recognitions:
In 2011, The Stevie Awards declared M3 Communications Group, Inc. "Best PR Agency in Europe" and Mr. Behar was a finalist in the category "Executive of the Year" in the field of PR, marketing & advertising. Both awards were received by M3 Communications' CEO at a glamorous ceremony at Emirates Palace in Abu Dhabi.
In February, 2011, The Holmes Report announced M3 Communications Group, Inc. as the Best Consultancy in Eastern Europe for 2011.
Again in 2011 the company was announced "Agency of the Year" by the BAPRA Brigth Awards annual contest, organized by the Bulgarian Association of Public Relations Agencies and judged by entirely international jury.
In November 2005 Mr. Behar was announced Honorary Citizen of his native city of Shumen.
In 2005, the monthly magazine Ikonomika presented officially its yearly award Mr. Behar for special achievements in Business Communications to Mr. Maxim Behar. The prize is the most prestigious one in the field of business communications in Bulgaria and for the first time ever goes to a PR and marketing expert.
In 2004 Maxim Behar was announced "Face of the Bulgarian Tourism" and received the award by the prestigious monthly magazine Recreation & Tourism at a special ceremony in Sofia.In 2001, Mr. Behar was elected President of the Bulgarian Business Leaders Forum.
In 1999, Maxim Behar became the first Bulgarian to receive full membership in the International Public Relations Association.
Six years later, in 2005, he was once again the first Bulgarian to become full member of the American Public Relations Society.
Education:
Bachelor's degree in Engineering Economics and an Advanced degree in International Economic Relations from the Prague Economics University
In August 2011 Mr. Behar graduated a training course "Thought Patterns for High Performance 3.0." provided by the founder & president of The Pacific Institute in Seattle Mr. Lou Tice.
In 1999 he graduated from the Full Corporate Program of Japanese Style of Management, AOTS, Yokohama Kenshu Center, Japan.
A year later, in 2000 he gratuated an Advertising training at the US Agency for International Development.
Significant presence:
In Sofia, 2011, he was an official guest at a breakfast with UN Secretary General Ban Ki-moon. During a visit to Jerusalem, he had official meetings with two Israeli Prime Minsters - Shimon Peres and Tzippy Livni.
In 2010, dinner with US Secretary of State Hillary Clinton and Israeli Defense Minister Yehud Barak during the American Jewish Committee (AJC) annual convention.
February 2010, he was a keynote speaker at the World Forum for Top PR Managers in Davos, Switzerland. An year later, as a Member of the Organizational Committee of the Forum, he was moderating the forum's opening panel.
May 2006, he attended a dinner with President George Bush at the National Building Museum in Washington D.C. on behalf of the 100th Anniversary of the American Jewish Committee (AJC).
In 2001, Mr. Behar was elected President of the Bulgarian Business Leaders Forum. As such, he officially hosted The Prince of Wales during his visit to Sofia in 2003 and moderated the meeting of His Royal Highness with representatives of the Bulgarian business sphere. Mr. Behar served as Chairman two consecutive terms until 2007 and currently is a member of the Board and Vice-Chairman of the Forum.Mr. Behar was a Press and Public Relations Director in 1998 during Hillary Clinton, US First Lady, visit to Bulgaria.
Distinguished Lectures:
World PR Forum in Davos, Davos, Switzerland;
Northwestern University Chicago, Illinois, USA;
John F. Kennedy School of Government at Harvard University, Cambridge, Massachusetts, USA, ICCO Summit, Sintra, Portugal;
American University in Bulgaria, Blagoevgrad, Bulgaria;
South-West University "Neofit Rilski", Blagoevgrad, Bulgaria;
Sofia University "St. Kliment Ohriidski";
Burgas Free University, Burgas, Bulgaria;
Moscow International higher Business School, Moscow, Russia;
Kazakhstan Institute of Management, Economics, and Strategic Research, Almaty, Kazakhstan;
World Association of Investment Promotion Agencies, WAIPA.
President of WCF, Co-Chairman of the Committee of WCFDavos, Chairman of Hill+Knowlton Strategies in the Czech Republic, CEO & Chairman of the Board at M3 Communications Group in Bulgaria