Speakers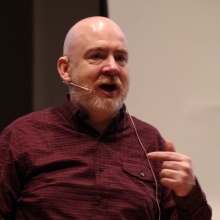 Paul Holmes
Founder and CEO of the Holmes Report and SABRE awards
Paul Holmes, the PR industry guru, founder and CEO of The Holmes Report and the SABRE awards, shares:
"I don't see a reason why PR shouldn't continue to expand. If we live in a world where information, transparency, democracy and freedom of choice continue to expand, then so will PR! Today the industry has to be involved in setting a policy rather than communicating it: that's a major part of building relationships with the public."

Check the full text of the interview here , or watch the interview on our YouTube channel: forumdavoscom.

Paul Holmes is one of the most renowned PR specialists in the world, often described as the PR industry guru and the most influential public relations figure globally. Holmes is an editor and publisher with more than two decades of experience writing about and evaluating the public relations business and consulting with both public relations agencies and their clients.

In 2000, he founded The Holmes Report, a publication dedicated to providing insight, knowledge and recognition to public relations professionals. The Holmes Report organizes the world's largest and most sought after public relations awards competition, the SABRE Awards, which recognizes Superior Achievement in Branding and Reputation in North America, EMEA and the Asia-Pacific region.

For the last couple of years, Paul has been holding a top position among the several "most wanted" public speakers across the world.
Founder and CEO of the Holmes Report and SABRE awards