Speakers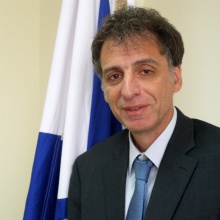 Eliav Belotserkovsky
Ambassador of Israel in Ukraine
Eliav Belotsercovsky - Ambassador Extraordinary and Plenipotentiary of the State of Israel to Ukraine since August 2014.
He is a graduate of the Hebrew University in Jerusalem, has a BA in International Relations and Chinese Studies and received his M.Sc. in International Management from Boston University program in Israel. Belotsercovsky is a career diplomat and has served as a Director of the Department of Economic Relations with India and China at the Israeli Foreign Ministry and served as the Deputy Ambassador to New Delhi. Previously he also served in Singapore and Cyprus.
While being the Ambassador of Israel to Kyiv he has continued to develop Israeli-Ukrainian cooperation in a number of humanitarian areas, including the training of Ukrainian psychologists and social workers for treating victims affected by post trauma, and the promoting of other economic and social activities.
Ambassador of Israel in Ukraine