Speakers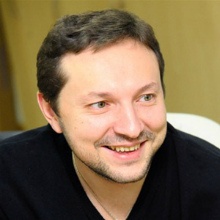 Yuriy Stets
Yuriy Stets, Minister of Information Policy of Ukraine
Yuriy Stets is a Ukrainian journalist and politician .He was appointed to the post of Minister of Information Policy at the formation of the Second Yatsenyuk Government on 2 December 2014.
Stets started his career in journalism as a reporter for the Chernivtsi Regional State Television and Radio Company. He then worked for various television channels, including ICTV, a local Chernivtsi-based channel called TBA. He also work for public relations firms. Starting in 2002, Stets served as the chief producer for the Channel 5 television network.
Yuriy Stets served as the Director of Information Security for National Guard of Ukraine. He was appointed Minister of Information Policy on 2 December 2014, vacating his seat in parliament to fill that post. Under his governance Ministry of information will respond to foreign information attacks by creating country's information strategy and assisting communication among state bodies. Currently Yuriy Stets is working on creation of an "Internet army" in order to reveal true information about Ukraine.
Yuriy Stets, Minister of Information Policy of Ukraine