Speakers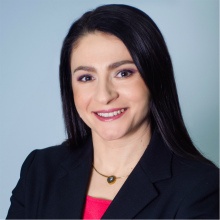 Tatyana Furtseva
Senior Partner, Country Manager at WE Partners, Ukraine
Tatyana Furtseva joined WE Partners in 2012. As a senior partner and director, she is responsible for business development and operations of WE Partners in Ukraine.
Over 17 years of professional experience in the field of executive search, Tatyana has successfully implemented a number of projects on hiring managers in the following segments: banking and financial services, consumer products, retail, real estate and telecommunications.
Tatyana is a recognized expert in Ukraine in the field of search of top managers for the financial market. Under her leadership, projects on the formation of management teams for a number of foreign banks, entering Ukrainian market, have been implemented. She has also worked with major local players to engage senior executives, including from abroad.
Prior to joining WE Partners, Tatyana Furtseva for five years headed the practice of "Banks and Financial Services" in Hudson international consulting firm, and for eight years she worked in the largest national recruitment company in the capacity of executive director.
Tatyana is a certified expert in the assessment and development of personnel. She participated as an expert in both the individual centers of evaluation and large-scale projects on assessment of management teams.
In 1999, Tatyana graduated from the Faculty of Sociology and Psychology of Taras Shevchenko National University of Kyiv on the specialty "Psychology".
Tatyana has skills in modern technologies of managers' assessment, completed certified courses on key Lominger's products: Lominger Leadership Architect, VOICES, CHOICES, viaEDGE, TEAM ARCHITECT, INTERVIEW ARCHITECT.
Senior Partner, Country Manager at WE Partners, Ukraine