Speakers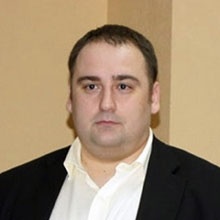 Yevhen Hlibovytsky
Managing Partner at pro.mova
Yevhen Hlibovytsky is the founder and Managing Partner of pro.mova strategic communications company. He has been actively involved in media industry. He is a co-creator of the TV Channel 5 as an instrument of preventing censorship. Since 2006, he cooperated with the OSCE as an expert on media freedom in the post-Soviet region.  Hlibovytsky is a member of the expert groups aimed at creation of the development strategies for Lviv and Dnipropetrovsk. He lectures at the Kyiv Mohyla Business School and Business School of the Catholic University in Lviv.
Yevhen Hlibovytsky worked for Radio Lux in Lviv and Radio Promin, as a TV presenter for shows Vikna news and 7 days. He we as presenter at Channel 5, as well as a journalist at 1+1 TV channel. Hlibovytsky was one of the leading TV presenters of the popular morning show Breakfast with 1+1.
Now, Hlibovytsky's company pro.mova offers strategic and communications consulting services in Ukraine, the Caucasus and Central Asia. It studies the impact of individuals' social values on business, economic and political processes.
Yevhen was one of the first Ukrainian TV journalists who went to the USA to cover the tragedy of September 11, 2001.
He is an expert of the Nestor Group, an informal association of Ukrainian intellectuals, experts and civic activists established to develop a strategic vision for Ukraine (founded in March 2012).
Managing Partner at pro.mova