Speakers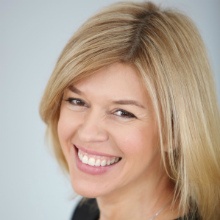 Tatyana Vasilenko
Executive Chairman of AGAMA communications
Tatyana Vasilenko is Executive Chairman at AGAMA communications, member of the Board of directors at the Atlantic Group. She is the "Trace in advertising" award winner for significant contribution to the development of the advertising market in Ukraine.
In 1994, Tatyana founded PROVID, which became first full service agency in the country and which  remains industry leader for the last  20 years.
15 agencies specialized in media, creative, PR and digital expertise were founded under her leadership. In 2013 they were united in AGAMA communications group of companies. The Group's portfolio includes more than 250 international and Ukrainian clients.
Tatyana Vasilenko is a graduate of Executive Program of Singularity University, one of the most innovative educational institutions in the world, located on the territory of the NASA Research Center in Silicon Valley, USA. She received business education in high schools in the USA (William Davidson Institute at the University of Michigan Business Schools) and in the UK (Executive Development Program at Henley Management College).
Executive Chairman of AGAMA communications