Speakers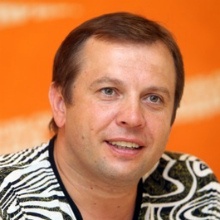 Mykola Kobzov
President of Kobzov's Circus Union
Mykola Kobzov is a Ukrainian circus luminary, President of Ukrainian Public Organization Kobzov's Circus Union.
He began his circus career when in school and soon worked in many circuses of Ukraine.
In 1999, he founded and managed his own circus-tent Arena Triumph. Subsequently, he implemented a number of successful projects, the most famous of which is Kobzov Circus. Kobzov has been on numerous successful world tours with his circus.
In 2002, Mykola established Ukrainian Public Organization Kobzov's Circus Union that encompassed 14 circus-tents, more than 500 entertainers and circus workers in different professional areas.
Mykola Kobzov established a council of circus veterans that carries out large-scale community and charity activities under the umbrella of Kobzov's Circus Union.
In 2006, Mykola was a guest of honor at the Paris Circus Festival Circus of Tomorrow.
From 2008 to 2010, Kobzov worked with mobile dolphinariums in Ukraine.
In 2009, he published the first Ukrainian circus magazine The Tour.
Mykola Kobzov is the Honored worker of culture of Ukraine for contribution to the development of circus arts and active charity work (2004), winner of the contest Brand of the Year (2005), Person of the Year (2006).
President of Kobzov's Circus Union