Speakers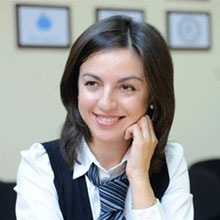 Anna Derevyanko
Executive Director of European Business Association
Anna Derevyanko has been serving as the Executive Director of the European Business Association (EBA) since 2003. Before that, in 2000 she was appointed as Deputy Director of the EBA. The EBA under Derevyanko's supervision has quadrupled its size now bringing together around 950 companies. It has become the biggest association for foreign businesses in Ukraine, with five regional branches (Lviv, Kharkiv, Donetsk, Dnipropetrovsk, and Odesa). Currently, the EBA actively participates in facilitating and developing the EU-Ukraine dialogue.
Born in Zhytomyr, Ukraine, Anna Derevyanko graduated from Kyiv National Economic University (began studies in 1993) with a degree in International Economics and Law. In 1997 as a senior year student and already a promising economist, Anna joined the foreign invested Ukrainian Construction Business company. Within one year as she earned her Master's Degree, Anna was promoted to Financial Director of the company.
Anna Derevyanko is a member of the Supervisory Board of PJSC ArcelorMIttal Kryvyj Rih and a member of World Economic Forum Global Agenda Council.
Executive Director of European Business Association