Speakers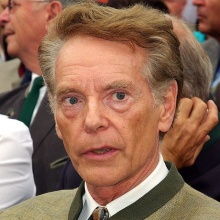 Bernd Loetsch
Austrian ecologist with the Austrian Academy of Science, former director of the Museum of Natural History in Vienna
Bernd Loetsch is an ecologist with the Austrian Academy of Sciences and a lecturer at the Salzburg and Vienna Universities. Starting his career as a biologist at the Institute of plants physiology, in the early 70s he committed to environmental protection and initiated and coordinated several significant ecological projects, opposing the plans to build a bridge across Lake Neusiedl and the Hainburg power plan.
Berend Loetsch gained recognition as a pioneer of the Austrian environmental movement and set up the Institute for Environmental Sciences and Environmental Protection.
In 1986 Bernd Loetsch became a professor at the University of Salzburg and onwards President of the National Park Danube Wetlands Institute. At the time he played a leading role on all the major environmental actions: was a Speaker of the UNESCO Seminars "Ecosystems Management" and took part in the WWF campaign "Save the wetlands", drawing attention to the threat of destruction of part of the Danube wetlands. He became publicly known for his proposals for Life-friendly urban design and transport solutions through TV discussions on Austrian television and his opinion on current environmental problems.
From 1994 till 2009, he worked as the director of the Museum of Natural History in Vienna. Under his guidance, the museum was ranked among the Top Ten museums of the world by a "London Sunday" expert jury.
Bernd Loetsch has received many prestigious awards in biology and ecology science, including "Konrad Lorenz national award for nature and environmental protection", "Golden medal for Meritorious service to Vienna region" and "Bruno H. Schubert-Stiftung first category prize".
Today, professor Loetsch continues his work as a senior scientist at the Department of Ecology and Nature history.
Austrian ecologist with the Austrian Academy of Science, former director of the Museum of Natural History in Vienna