WIF | Paris 2017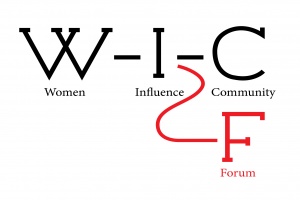 Women Influence Forum (WIF) in Paris
Forum & Gala Dinner
20 Sept, 2017, 09:00 - 23:00
Venue: Ritz Hotel, Paris
(15 place Vendôme 75001 Paris)
For all interested in the key ways of women's influence on today's development of humanity!
Key idea of the project: Women CAN make a difference!
WIF embodies the idea of specific women's mission to influence the world, to make it a better place, and also provides a research on the possible ways of how women can achieve such a global impact.
WIF is a way for involving every woman who, inspired by others' life stories, has the guts to choose her own way of realizing her true potential – as a creator, professional, entrepreneur, mother, muse or citizen!
Working language: English (+ options for paid interpretation)
Contact:
Tel:+336 32141373
Email: forum@forumdavos.com
20th September 2017
9:00 - 9:30
Registration of participants.
10:00 - 10:15
Opening speech: Women authenticity and influence.
Yanina Dubeykovskaya, WIC's Founder & General Director, President of the WCFA Association in Switzerland (Global)
10:15 - 10:30
Keynote: Being a Creator.
10:30 - 11:15
Discussion: Being a Creator.
Moderator:
Olga Podoinitsyna, Member of the Board, VTB Capital (Russia)
Speakers:
Camilla Webster, new acrylic series, female conscience, identity and desires - together with the world-renowned art consultant Tanya Brillembourg Capriles at IdeoBox Art Space, Wynwood, Miami (exhibition in October 2017), and also best-selling author of The Seven Pearls of Financial Wisdom: A Woman's Guide to Enjoying Wealth and Power (USA)

11:15 - 11:30
Keynote: Being an Entrepreneur.
11:30 - 12:15
Discussion: Being an Entrepreneur.
Moderator:
Annie Mutamba, EU-Africa PR & Strategic Comms Consultant, co-founder of Meridia Partners (Belgium)
Speakers:
Carol Pepper, Founder and Chief Executive Officer of Pepper International LLC, New York City (USA)
Ann Shriver Sargent, Co-founder & President of Porte-cochère (USA)
Doris Hangartner, Founder & CEO of DORIS HANGARTNER AG (Switzerland)
Natalia Smirnova, Owner & CEO at Personal Advisor Ltd., Moscow (Russia)
13:00 - 13:20
Keynote: Being a Citizen.
Lindy Wafula, CEO / Lead Consultant at Village Ventures International (Kenya)
13:20 - 14:00
Discussion: Being a Citizen.
Speakers:
Catherine Hernandez-Blades, Senior Vice President, Corporate Communications, Aflac (USA)
Dr. Jiahong Chen, Research Director S&C, Dialogue of Civilizations Research Institute (Germany)
15:20 - 16:00
Discussion: Being a Mother.
Speakers:
Carol Pouchol, Information Technology Manager - South Eu, Microsoft (France)
Francesca Lana, President & co-founder of NetworkHER, Founder & Director of ERA International (UK)
Jan Cavelle, Entrepreneur, Writer, Coach to other women (UK)
16:00 - 16:20
Keynote: Being a Professional.
Prof. Patrizia Paterlini-Brechot, MD, Ph.D., Oncologist, Hematologist & Molecular Biologist at Faculty of Medicine, Paris Descartes (France)
16:20 - 17:00
Discussion: Being a Professional.
Moderator:
Kara Alaimo, Ph.D., Assistant Professor & Associate Chair - Department of Journalism, Media Studies, and Public Relations, Lawrence Herbert School of Communication, Hofstra University (USA)
Speakers:
Kiki Keating, Founder and Head of Communications Strategy at KikiNetwork (USA)
María Eugenia Ferré Rangel, Chief Executive Officer of GFR Media (USA)
Ekaterina Kozinchenko, Partner, Head of A.T. Kearney, Russia & CIS (Russia)
Maureen Murphy, Commercialization Advisor, Founder & MD of Clear Track Pty Ltd. (Australia)
Anne Villemoes, Founder & Owner of AnneVillemoes.dk, Strategic / Crisis Management Consultant (Denmark)
17:50 - 18:30
Discussion: Being a Muse.
Moderator:
Galina Panina, Coach of Public Speaking and Director PR&GR Leroy Merlin (Russia)
20:00 - 20:30
Welcome cocktail before the gala dinner.