Speakers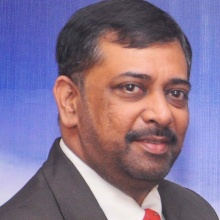 Yogesh Joshi
President of ABCI - the Association of Business Communicators of India
Yogesh Joshi - a young dynamic self-made man, has been working in Tata Steel, the 5th largest producer Steel in the world. With an experience of over 24 years in the profession, he oversees the Corporate Affairs & Communications of the company at the Group Head Quarters of the Tatas at Bombay House, Mumbai.
A Post-graduate in Mass communications, Yogesh is one of the celebrity figures in the profession of PR & Corporate Communications across Nation. He has been elected as the National President of the Association of Business Communicators of India (ABCI), an organization with 56 glorious years, for the fourth consecutive time, a record never set before. He has changed the face of this association merely in two years, and raised it to internationally know organization. The ABCI Awards are, therefore, best known as the "Oscars" of the Indian Communications Industry. This year, ABCI organized 52nd Annual Awards Nite, with over 1000 non-repetitive nominations, a milestone in the history of Indian Communication Industry that no other professional body has ever set.
One of his outstanding and pioneering achievements is to benchmark the Indian PR & Communication Professionals, a practice that he has introduced in India by of awarding a Fellowship of the "Brains Trust" of ABCI. While face-lifting the organization, he knitted sources and resources together to make the association financially strong and self-sustaining. He is thus, truly a Change Manager. Yogesh also taught PR & Communications Management in Bharatiya Vidya Bhavan & NMIMS apart from a visiting faculty for Communications Studies in Symbiosis, Puna, Manorama Institute of Communications & SCMS, both Kerala, MICA - Ahmedabad, Makhanlal Chaturvedi University, Bhopal & was on the Board of Studies of Manipal University.
In March, 2008, Yogesh has been conferred with the internationally acclaimed Highest Title in PR Profession, i.e. "Hall of Fame" by the Public Relations Council of India, which was affiliated to IPRA. He has also been bestowed with the "Golden Triangle Award" at the hands of Mr. Anam Ramanarayana Reddy, Hon'ble Minister for Information & PR, Government of Andhra Pradesh in April, 2009. Mr. Reddy is the grandson of the former President of India, Late Neelam Sanjiva Reddi. The Award is instituted by Global Forum for Public Relations, Hyderabad. On Saturday, 3rd April, 2010, Yogesh has been conferred with the "PR Man of the Year Award" by the PRCI in its National Convention held in New Delhi.
Yogesh has learned Indian Classical Vocal Music for 21years from Pt. Jeetendra Abhisheki and was the 1st Prize Winner in an All India Youth Festival in Classical Music Competition. Yogesh also acted in Indian plays under the direction of Ms. Sai Paranjpye.
President of ABCI - the Association of Business Communicators of India