Speakers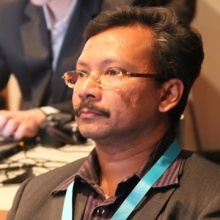 Abdul Jalil Maraicar
Client Director at Cisco Systems
Abdul Jalil Maraicar, an Application Scientist by profession, obtained his MBA from Nottingham Trent University, UK and an Executive MBA from INSEAD business school, FRANCE. He joined Veeco Instruments Inc, New York, USA, a spanned of company from the IBM, as an application scientist to head the design and development of 0.13 micron technology silicon probes for Atomic Force Microscopy (AFM) which provides measurement of critical dimensions and micro-roughness with sub-angstrom resolution for the development of the next generation Thin Film Magnetic Heads (TFMHs), as well as scientific, biological and industrial applications.
He returned to Malaysia in 1999 at the peak of Asian financial crisis and starts up his own software development company focusing in wireless technology and solution and invited Malaysian Venture Capital (MAVCAP) as the investment partner. After meeting all the milestones set by MAVCAP, he successfully bought back the shares held by MAVCAP at a premium rate on the same year and engineered a reverse takeover towards IPO.
Subsequently he assumed the position of Chief Knowledge Officer at PETRONAS a Malaysian National Oil Company where he created, developed and implemented a new strategic direction for a Knowledge Management Framework that was specifically designed to promote the knowledge agenda within and beyond the organization of PETRONAS by creating the Masterplan and infrastructure, facilitated interconnectivity and communication that caused the effect of a self sustaining assimilative knowledge culture across PETRONAS Group-wide.
Currently, he is the Client Director at Cisco Systems, heading the transformation initiative to be business relevant in the Oil & Gas industry and develop transformational and high value strategies to implement and drive APAC Oil & Gas industry business towards sustainable annual revenue by developing Shareholder Value footprint for Cisco relevance from Revenue Generation, Operation Efficiency, Asset Efficiency and Governance perspectives.
With over 26 years of professional experience ranging from Start-up to Fortune 100, combined with consulting experience with McKinsey & Co and Deloitte Consulting, he brings an invaluable insight of a complex and comprehensive Operating Performance Improvement, Knowledge & Information Management strategies and Change Management methodologies programs for business operations to promote increased Collaboration and Accelerated Capability Development, which systematically address Performance Gaps identification and closure.
His other current professional engagements are:
1. Lead consultant providing Human Capital Transformation Program to United Nations Organizations.
2. Board member of  Independent Advisory Panel (IAP) for University Teknologi Petronas (UTP) for BSc Computer Science.
3. Adjunct lecturer at Universiti Teknologi Petronas and Multimedia University Malaysia for Knowledge Management and Information System for graduate studies.
Among his publications are:
1. Developing Plant Operating Capabilities Standards Towards Operational  Excellence and Superior Performing Assets
2. Understanding Knowledge Management Strategies and Implementation towards Organizational Competitiveness
3. Capability Development through Knowledge Management
Client Director at Cisco Systems