Speakers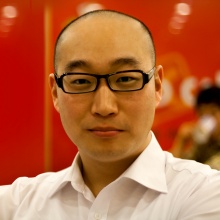 David Lee
Founder of Shakr Media Co., Ltd.
David Lee is the Founder & CEO of Shakr Media, based in Seoul, Korea. Shakr Media transforms written content and photographs into beautiful motion graphics sequences, powered by the latest in-browser 3D technology.
David was one of the selected few Asian entrepreneurs to present as a speaker at Techcrunch Disrupt Beijing.
Prior to founding Shakr Media, David was Vice President & Director at Zenitum, one of the earliest R&D firms in the field of vision-based augmented reality.
David was also co-founder of Wetoku, which was recently acquired by Ahiku Corp.
Founder of Shakr Media Co., Ltd.