Speakers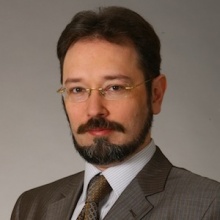 Evgeny Kuznetsov
Deputy CEO - Director of Project Management Office at RVC (OJSC)
Evgeny Kuznetsov is a renowned Russian expert in communications and PR campaigns.
In the early 90s his main activity and business functions were associated with opinion research and political analysis. His track record includes a number of copyrighted methodologies of social-political and technological forecasting. Afterwards, he was a pro-active participant in federal and regional election campaigns.
In 2001–2002, Evgeny Kuznetsov worked for "North-West Strategic Projects Center". He was the author of a number of documents on regional development. In the next 5 years, till 2007, he joined Imageland Edelman PR Agency, where his work functions included a wide range of activities starting from integrated campaigns for corporate clients to public and political campaigns of a federal scope.
In 2006, jointly with Simon Kordonsky, he established the Foundation for Assistance to Science, Education and Medicine. Within the framework of this fund he launched a series of public campaigns in medicine and healthcare (including development and support of patient's right movements) and created a range of state development concepts. Among other initiatives, the Fund also provided a set of concepts and methodologies in establishing specific communications between science and business communities and executed a variety of projects in this area.
In 2009, Mr. Kuznetsov became Head of Committee of Science Community Communication of Russian branch of IABC (The International Association of Business Communicators).
Since the late 2009, he worked as Director of the Department of Development and Communications, later - as Director of Strategic Communications of RVC.
Since April 2014, he acts as Deputy CEO - Director of Project Management Office, and a Board Member of RVC (OJSC).
Deputy CEO - Director of Project Management Office at RVC (OJSC)