Speakers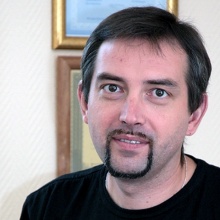 Evgeny Grigoriev
Marketing and Development Director at MediaLine publishing house
Evgeny Grigoriev is Marketing and Development Director of the MediaLine publishing house, which specializes in corporate press. MediaLine publishes more that 60 issues annually – magazines, newspapers, annual reports, books and albums. Today the publishing house has become a leader in the specialized press in Russia, rendering services of corporate press publishing to more than 40 major Russian and international companies, such as Megafon, Gazprom, EuroChem, Aeroflot, Bayer HC, PepsiCo, Nycomed, 3M, GM and Russia's governmental structures.
Evgeny has more than 15 years of experience working as a Mass Media Marketing Director. He has cooperated with some of the major Russian (SALON-press, Extra-M, Logos) and international (Bauer) publishing houses, releasing new editorial projects on the market. In 2008 he was awarded with an honorable diploma from the 5th Russian National Forum for corporate press for his "Contribution to the Russian media industry development"; he is also a member of the Experts Board of the Corporate Media Associations.
He holds a Master's Degree in Nuclear Physics.
Marketing and Development Director at MediaLine publishing house