Speakers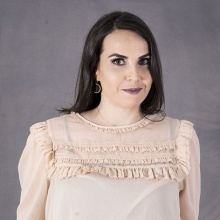 Ariane Feijo
Founder of Otimifica Inbound PR, co-founder of Todo Mundo Precisa de um RP - TMPRP (Brazil)
Holds a BA in Public Relations, an MBA in Marketing and is a master candidate in Culture Studies. Brazilian, with 9 years-experience in countries, companies and events in Europe.

She has been developing INBOUNDPR since 2011, an intelligence which synchronizes marketing and sales with PR. Her multicultural career includes companies like Dell (Brazil), KPMG and Lloyds TSB (England) and projects developed in the United States, Germany, France, Spain, Russia and India.

She was awarded as one of the "20 More Influential Women" in the Brazilian Promotional & Activation market, according to a research conducted by the Brazilian Association of live strategies for businesses (AMPRO, 2013).

Currently is co-owner at the PR collective Everybody Needs a PR and founder and co-owner at Otimifica, a consultancy in marketing intelligence which helps companies to achieve digital maturity, with clients in Brazil and Portugal.

Otimifica has been recognized as the 3rd best inbound marketing company in Brazil in the category Integrated Campaigns (RD Summit, 2016) and one of the 25 most effective marketing consultancies in the implementation of marketing automation in Brazil by Resultados Digitais (2017).

Her latest project is the book "Inbound PR: How to synchronize businesses towards digital maturity", to be launched in May 2018.
Founder of Otimifica Inbound PR, co-founder of Todo Mundo Precisa de um RP - TMPRP (Brazil)