Speakers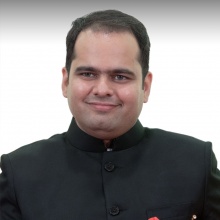 Ashay Sahasrabuddhe
Founder & CEO of Kintel Incomm Pvt Ltd. (India)
Ashay is an aspiring entrepreneur at Kintel and PhD scholar at Dept. of Communication & Journalism, University of Mumbai. After completing Masters in Electronic Media and Diploma in Media & Disability Communication, he founded media production venture and started working for creating opportunities in media accessibility.
In 2016, Ashay founded Kintel - India's first inclusive communication agency. Kintel is a creative firm working in accessible & inclusive communication. Ashay's expertise in inclusive communication enables products or services reach beyond conventional and primary audiences. His experience in inclusive communication is diversified. Ashay worked on India's first accessible film - Chaurya (2016 - Marathi feature film) as the Director of Accessibility. It was first full length feature film which was screened in cinema halls in accessible format for people with deafness and blindness. These efforts were recognized by Accessible India Campaign of Min. of Social justice & Empowerment, Govt. of India. Recently, his start up Kintel completed India's first ever accessible education content development project with Jidnyasa Trust, Thane. In this project Kintel produced 500 minute content in Indian Sign Language for teaching-learning science.
Before founding Kintel, Ashay has also worked with Global Sanitation Fund's (GSF) India based agency on its Accessibility Audit of Communication. In this activity Ashay and his team evaluated communication of GSF which works in rural parts of Indian states of Jharkhand, Bihar etc. for creating awareness among people and making villages Open Defecation Free. Accessibility Audit of Communication is a very novel concept in the world of communication where communication techniques, methods and content are audited for their efficacy to communicate the message to your audience.
Ashay's PhD research focuses on how can the accessibility tools like sign language, subtitles and audio description be used to create better accessibility of feature films. His research is based on Indian communication design. In 2015, Ashay presented a research paper on use of multiple sign language interpreters for better understanding of the film at 'Media for All Conference' in Sydney, Australia. His research paper 'Understanding narrative of Audiovisual with and without Sound' got published in Media Research and Communication Journal (ISSN 2394-7594).
Founder & CEO of Kintel Incomm Pvt Ltd. (India)