Speakers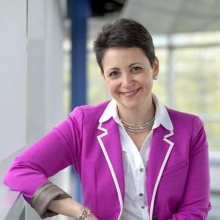 Deborah Grayson Riegel
Director of Learning at Boda Group, autor of the book "Tips of the Tongue" (USA)
Deborah is an executive coach, workshop facilitator, teacher and author who combines her expertise in cognitive, behavioral and social psychology to help leaders and teams achieve personal and professional success.
She is the Director of Learning at Boda Group.
She started her career at age 17, when she won the U.S. National Championship in public speaking as a high school senior and was immediately recruited to coach on presentation and communication skills at colleges and corporations. Deborah is an instructor of Management Communication at the Wharton School of The University of Pennsylvania. She also serves as a Visiting Professor of Executive Communications at the Beijing International MBA Program at Peking University, China, where she prepares senior leaders from around the world to communicate more effectively in a growing global marketplace.
Deborah's clients range from American Express, Bloomberg, International Flavors and Fragrances and Kraft Foods to The American Bar Association, Pfizer and The United States Army. She is a columnist on presentation and communication skills for Inc. and Psychology Today, and has been a featured expert and a contributor to Harvard Business Review, The New York Times, Oprah Magazine, Forbes, Fast Company, Bloomberg BusinessWeek, Fox Business Network, and American Express OPEN Small Business Forum.
BUY ONLINE NOW!
Special price for WCF attendees: 20 USD only!
+ Get your book with an autograph, at WCF!
Deborah is the author of "Oy Vey! Isn't a Strategy: 25 Solutions for Personal and Professional Success", "Money Talks: 100 Strategies to Master Tricky Conversations About Money" and "Tips of the Tongue: The Nonnative English Speaker's Guide to Mastering Public Speaking."
Deborah graduated from the University of Michigan with a degree in Psychology and from Columbia University with a Masters in Social Work. She is also a credentialed Professional Certified Coach with the International Coach Federation. She and her husband Michael are the proud parents of teenage twins, Jacob and Sophie.
You can reach Deborah at Deb@GetTalkSupport.com or Deb@TipsoftheTongue.com.
Director of Learning at Boda Group, autor of the book "Tips of the Tongue" (USA)