Speakers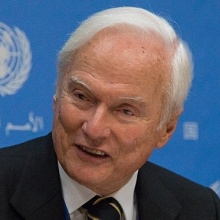 Idriss Jazairy
Executive Director of the Geneva Centre for Human Rights Advancement and Global Dialogue (Switzerland)
Idriss Jazairy is a national of Algeria. He is a graduate of Queen's College (UK), of Oxford University (UK), of the École Nationale d'Administration (France) and of the Graduate of the Public Administration of Harvard University (USA). Idriss Jazairy is an experienced diplomat, international administrator and NGO leader. He has indeed been Algeria's Ambassador to Belgium, the USA, the Holy See, and Permanent Representative to the UN Office in Geneva.
As a representative of Algeria, he was in particular a founding member of UNCTAD and the Human Rights Council. In 1984, he was elected president of IFAD, a Rome-based UN Specialized Agency. He was thereafter Executive Director of ACORD, an international consortium of NGOs (including Oxfam, Novib, CCFD, etc.), then headquartered in London and devoted to the protection and empowerment of victims of poverty and civil strife in Africa.
From 1995 to 1998, he was also a member of the board of CARE/USA. He is currently the Special Rapporteur of the UN Human Rights Council on unilateral coercive measures and the Executive Director of the Geneva Centre for Human Rights Advancement and Global Dialogue.
Idriss Jazairy has authored or co-authored several publications, including a book entitled "The State of World Rural Poverty: An Inquiry into its Causes and Consequences" (New York University Press, 1992, 570 pages), a chapter entitled "The Role of Regional Groups and Coordinators: A Case Study – The African Group", in Lars Müller (Ed.), The First 365 Days of the United Nations Human Rights Council, 2007, and his most recent book "In Defence of Special Procedures of the Human Rights Council: An Alternative Narrative From the South" (Geneva Centre for Human Rights Advancement and Global Dialogue, 2015, 82 pages).
Executive Director of the Geneva Centre for Human Rights Advancement and Global Dialogue (Switzerland)