Speakers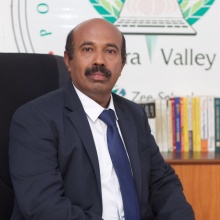 R. Chandrasekar
Chairman of Litera Valley Zee School (India)
Mr Chandrasekar has established himself as an eminent educationist in less than a decade, having incepted and then brought the Litera Valley Zee School to never-heard of heights for a secondary school.
Himself a State topper in Engineering and Gold medalist in many sports including football and hockey, Mr Chandrasekar's vision is to impart quality world-class education at an affordable fee in his hometown. He believes that children learn by doing, and when they enjoy what they are doing, they do more and create lifetime learning memories. He has never been bound by convention to assume that the child is too young or a concept too complex - he leaves the field open for all his children to discover, explore and ultimately learn, and understand what they learn.
He has introduced Robotics in his school for 5-year old children, his 7-year old children begin Scratch Programming, and all of his children in school are encouraged to constantly innovate and learn. His students have come up with projects that have astounded even many graduate and post-graduate students, and what's more, they have constantly and consistently performed in the many arenas of national level championships in sorts, robotics and math and science.
Mr Chandrasekar is ably supported in the everyday management of the school by his very capable and lovely wife, Mrs. Bhuvaneswari Chandrasekar, who is also the Principal and Correspondent of the school, and his son, Vineeth Chandrasekar, who has donned the mantle of responsibility at a very young age (right out of college, in fact!) and successfully pioneered the Std X Board Exams with the highest percentage of marks in the district.
Little wonder then, that his school was adjudged the Best School, and every single dignitary rues that that they cannot turn back the hands of time to once again become students and study in the Litera Valley Zee School, Hosur.
Chairman of Litera Valley Zee School (India)