Speakers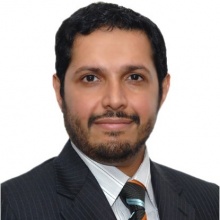 Abdul Qadir A. Rahman Buhari
Chairman of the Board, B.S. Abdur Rahman Crescent University (India)
Date of Birth: 14 March, 1965 (49 years)
College of Engineering, Guindy, Chennai – INDIA
Graduated in Mechanical Engineering, December 1985
Babson College, Wellesley, MA, USA
Master in Business Administration, May 1990
Concentration: Entrepreneurship
Anna University, Chennai, India Registered for Ph.D, 2013
Concentration: Financial Inclusion through Shariah Compliant Microfinance
Mr. Abdul Qadir is the 2nd son of Mr. B.S. Abdur Rahman www.bsabdurrahman.in who is the Founding Vice-Chairman of Dubai based ETA-Ascon-Star Group and a renowned Indian entrepreneur in United Arab Emirates. ETA Group with a turnover of US$ 5.5 billion have 12 business verticals employing around 50,000 people.
Abdul Qadir is the Chairman of B.S. Abdur Rahman University providing world-class technical education, offering 12 UG, 19 PG and 18 Ph.D programmes. The student and faculty strengths are 5656 and 338 respectively with 85 Ph.D holders. Abdul Qadir is managing this Institution for about 20 years.
Apart Abdul Qadir is also manages / in the board of many Corporates, governs various Trusts & Educational Institutions.
Director in various ETA Companies in India.
Managing Director of Trans Car India Pvt Ltd, dealer principal of Mercedes Benz as well as dealer principal of Volkswagen VG and Mahindra Automotive in Chennai – India.
Managing Director – West Asia Maritime Ltd (Ship Owning / Operating).
Vice Chairman – East Coast Construction & Industries ltd (South India's leading Construction Company).
Director – Mitsubishi Elevator ETA India P Ltd. (Mitsubishi Elevators & Escalators).
Whole Time Director of renewable energy bio mass plant, ETA Power Gen Private Limited (Bio-mass power generation of 10MW).
Member of the The Chennai Angel network.
As Secretary, Abdul Qadir manages B.S. Abdur Rahman Zakaat Fund Foundation (Est. 2007) for providing Educational grants for Zakaat eligible students. Rs.70 Mn worth scholarship been disbursed for about 5800 students in the last 5 years.
To accomplish the main task of helping women below poverty line, his wife Maryam and Abdul Qadir started 4M Trust in 2005 to promote financial inclusion through Self-Help Groups (SHGs).
Various Other NGOs / Trust managed by Abdul Qadir:
• Yousuf Zulaikha, Est.1993, Chennai, India – Education, Healthcare, Women Empowerment
• Seethakathi NGO, Est. 2002, Kilakarai, India – Promoted 1076 Self-Help Groups, sustenance to about 18,544 women in rural areas, disbursing a loan amount of INR 64 Mn, Avg Loan size of Rs.100,000 / Loan cycle 12-15 months
Towards his desire and to take forward his socio-economic initiate, Abdul Qadir became one of the 12 Management Committee Members of Sahulat Microfinance Society. Sahulat main function is to facilitate organizing and developing institutions, more particularly in cooperative sector. Abdul Qadir is also engaged in other multi-state cooperative models like Janseva Cooperative Credit Society and Sangamam Microcredit society.
Chairman of the Board, B.S. Abdur Rahman Crescent University (India)