Speakers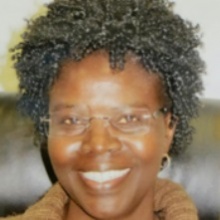 Doreen M. S. Jowi, Ph.D.
Associate Professor of Organizational & Public Health Communication, Department of Communication Studies, Bloomsburg University of Pennsylvania (USA)
Dr. Jowi earned her Ph.D. in Organizational and Healthcare Communication (2005), Master of Health Administration (M.H.A.) 1999, Graduate Certificate in Health Policy (1999), and Bachelor of Science in Health (B.S.H) 1998 from The Ohio University. She also earned an Associate of Applied Science (A.A.S.) degree in Clinical Dietetics from Hocking College.
Dr. Jowi joined the Department of Communication Studies at Bloomsburg University of Pennsylvania in 2005. She teaches the following courses: Public Health Communication; Medical Communication; Corporate Communication; Organizational Communication Theory; Health Communication; Intercultural Communication; Communication Research Methods; Communication for Business Professionals; Interpersonal Communication; Public Speaking; and Internship Communication Supervision.
Dr. Jowi is a trained social scientist whose research emphasis is in empirical methods and statistics. Her diverse topics of inquiries are in Public Health Communication with biases in epidemiology in health planning, public health policy and bio-statistics.
Associate Professor of Organizational & Public Health Communication, Department of Communication Studies, Bloomsburg University of Pennsylvania (USA)