Speakers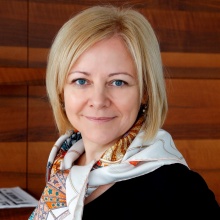 Olga Podoinitsyna
Member of the Board, VTB Capital (Russia)
Olga Podoinitsyna is a communications and marketing professional with over 20 years' experience in the global financial industry.
She is a Member of the Board at VTB Capital, the Investment Business of VTB Group.
Olga is responsible for Corporate and Investment Business (CIB) global communications and marketing strategy, including regional development across Europe, Asia, the Middle East and North America.
Since 2008, Olga has overseen the company's transition from new market player to an established name in the global investment banking industry. Before joining VTB Capital in April 2008, for eight years, Olga led the Communications and Marketing function at Deutsche Bank, where she also acted as member of the Executive Committee for Russia and the CIS.
Previously, Olga held senior positions at PriceWaterhouse, Burson Marsteller and the Centre for Capital Market Development Foundation, a World Bank project. She was also co-chair of the Marketing Committee of the American Chamber of Commerce in Russia, and since 2010 has been a Member of the Board at the Russo-British Chamber of Commerce.
Olga has become one of Russia's most awarded marketing professionals, and became the first representative of a Russian company to win a SABRE Award in recognition for her outstanding professional contributions. In 2015 Olga entered the Holmes Report top-100 most important and influential leaders in corporate communications. Since 2006 she has consistently led the "Top 1000 Russian Managers" annual list, and was recently named the financial sector's top Director for Public and Corporate Affairs by Kommersant.
Olga has been certified by a number of professional bodies and educational institutions including the New York Institute of Finance, London Business School, Kennedy School of Harvard University, the USA Securities and Exchanges Commission (SEC) and The Wharton School of the University of Pennsylvania.
Olga holds a Master's degree in Economics from the Russian Presidential Academy of National Economy and Public Administration, a Doctorate of Philology in Russian Literature and she is fluent in Russian and English.
Member of the Board, VTB Capital (Russia)