Speakers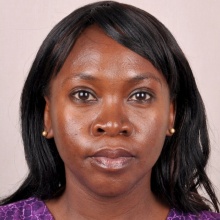 Mercy Kolok
Communication Officer, UNICEF - South Sudan
Born in war-torn Sudan, now South Sudan, Mercy Kolok had to leave her country due to war and insecurity as a child and fled to Kenya where she lived as a refugee. Despite the various challenges refugee children face, she completed her studies all the way to the university level and graduated with a Bachelor of Arts Degree in Communication from Daystar University and a Master's Degree in International Relations from the United States International University-Africa.
With over ten years' experience in Communications, Mercy has worked in various capacities as a journalist, Public Relations Executive, Communication for Development Officer and Communication Officer for various organizations in Kenya and South Sudan.
After completion of her studies, Mercy returned to South Sudan hoping to contribute to the development of her country after more than 20 years of living as a refugee in neighboring Kenya. She is currently working for UNICEF in South Sudan as a Communication Officer advocating for the rights of children and women.
Communication Officer, UNICEF - South Sudan