Speakers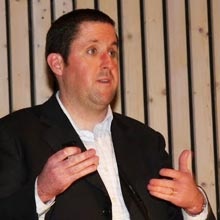 Matt Bostrom
Senior Vice President & Director of APCO Worldwide Online
Matt Bostrom, director and senior vice president with APCO Worldwide's online team, works closely with his clients to leverage the online channel to accomplish their strategic objectives. Mr Bostrom directs APCO Online's efforts for the EMEA and Asia regions. He has a solid record of providing strategic advice, solid management and effective communication to achieve complex objectives that deliver actual results.

While at APCO, Mr Bostrom's clients include those in the healthcare, financial services, association and consumer goods sectors. His campaign for the United States Travel Association won the PRNews award for digital public affairs campaign of the year in 2010.

Prior to joining APCO, Mr Bostrom acted as the vice president, client services, for 2 years for Mindshare Interactive Campaigns in Washington, D.C. Mr Bostrom led the client service team for the company, driving the organization into new sectors of work. His clients included those in the health care, consumer products, government, non-profit and entertainment industries.

Mr Bostrom also served as an associate with Booz Allen Hamilton for six years, providing strategic communications consulting for large government agencies, including the State Department, Homeland Security and Department of Labor in the US and the Department of Work and Pensions in the UK. His work for the United States' Internal Revenue Service Modernization program won a Hammer Award for Excellence in Government and his work for the Department of Labor's Govbenefits.gov campaign earned a Gracie award for excellence in government technology.

Mr Bostrom holds a Master of Business Administration from American University in Washington, DC and a Bachelor of Arts in Communications from the University of Wisconsin in Madison, WI.
Senior Vice President & Director of APCO Worldwide Online