Speakers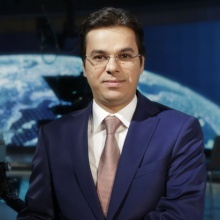 Ibrahim Eren
Deputy General Director of TRT-Turkish Radio and Television Corporation (Turkey)
Having graduated from Boğaziçi University, Department of Political Science and International Relations, Mr. İbrahim Eren has held senior positions in various leading companies of technology and media.
Initially, having started his career in Boğaziçi Group, he founded Who Pictures, and later on - a company operating internationally in the fields of documentary and animation. Following that, in 2010, Mr. Eren became the Deputy Director General of ATV - one of the leading TV channels in Turkey. Holding also a master's degree in Media Management fromWestminster University in London, Mr. Eren has been a Deputy Director General of Turkish Radio-Television Corporation (TRT) since 2013.
Responsible for 11 TV channels, including TRT-1 and TRT World at TRT, Mr. Eren is a member of the Board of Directors of Türk Telekom and the Director of International Emmy.
He is married and has two children.
Deputy General Director of TRT-Turkish Radio and Television Corporation (Turkey)