Speakers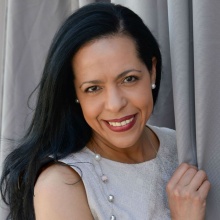 Elianne Ramos
Former Latino Digital Coalitions Desk, Hillary Clinton Campaign Principal and CEO - Speak Hispanic Communications, Founder of Border Kids Relief Project
Int'l Committee Member, Mujeres Líderes America (Women Leaders of the Americas)
Int'l Advisory Executive Council, Women Economic Forum
Known online as @ERGeekGoddess, Elianne is an award-winning, nationally recognized social entrepreneur and Latino community advocate. She is considered one of the most influential Latinas in social media. Recently, Elianne served as the Latino Digital Coalitions Desk for the Hillary Clinton campaign. Prior to that, she was the Principal and CEO of Speak Hispanic Communications and Founder of the Border Kids Relief Project.
Elianne lends her broad expertise to projects that raise civic awareness and participation, including collaborations with the White House, the U.S. Department of State, the U.S. Department of Health and Human Services, and major civic-centered organizations.
For years, she has sought to elevate the dialog on critical Latino issues, by amplifying the voices of social justice and marginalized segments of our community on her Google+ show, Twitter chats and other online/offline initiatives.
She is also an internationally sought-after public speaker and writer on strategic communications and topics that affect under-served communities, including recent presentations at the North Atlantic Treaty Organization (NATO) in Brussels, the International Communications Week in Brazil, and others.
In 20 years of experience, her past roles have included Creative Direction, Copywriting, and TV Spot Production for brands such as Panasonic, Procter and Gamble, HSBC Bank, Chivas Regal and more.
Recognition for her work includes being named a 2016 Hispanic Leader by the U.S. Embassy of Spain and the Fundación Carolina, the 2015 Girl Scouts Distinguished Woman of the Year Award, the 2014 Women Media Center Social Media Award, the 2014 Maryland Governor Social Innovation award, the 2013 SmartCEO Brava Awards and many more. Find more of her writing on her blog, or her Huffington Post and Al Día News columns. You can connect with her at ElianneRamos.com.
Former Latino Digital Coalitions Desk, Hillary Clinton Campaign Principal and CEO - Speak Hispanic Communications, Founder of Border Kids Relief Project