Speakers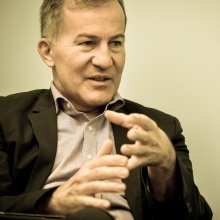 Michael Bociurkiw
Journalist, writer and development professional, former spokesperson for the Organization for Security and Cooperation in Europe (OSCE) and UNICEF, TEDx speaker (Canada)
Michael Bociurkiw is a Canadian writer, speaker and development professional who has worked on emergencies on several continents, most recently as a spokesman for the OSCE Special Monitoring Mission to Ukraine. During his more than two years with the OSCE he also acted as de facto spokesperson for the crash of MH17 in July 2014.
Michael is a two-time TEDx speaker and a former spokesperson for UNICEF, representing the organization in East Jerusalem, Geneva (global spokesperson), Tajikistan, Pakistan, Myanmar and elsewhere. The World Health Organization (WHO) has also engaged Michael as a communications professional in South Asia.
With work experience in about two dozen countries, Michael has been an integral part of teams managing emergencies, crises, and facilitation of aid, recovery and investigation. He has trained professionals in Europe and North America on media handling, crisis communications and social media behaviour.
Michael is a contributor to CNN.com, the Huffington Post and a frequent guest on CNN International and BBC World. He was a pitch stage moderator at the 2015 SXSW technology summit in Texas.
Over the span of 12 years as a journalist Michael worked on staff at the Winnipeg Free Press, the South China Morning Post and Asia Times. His OpEd and reporting pieces have been published in the Los Angeles Times, the Globe and Mail, Forbes and MSNBC.com. He is a member of London's Frontline Club and serves as an editor/mentor for the New York-based The OpEd Project. During his journalism career he has interviewed a wide array of political and business leaders - from Lee Kuan Yew (Singapore), Fidel Ramos (Philippines) and Mahathir Mohamad (Malaysia) to Peter Sutch of the Swire Group and Bill Marriott of Marriott International.
Michael has been part of two major content/technology start-up companies, including the Atlanta-basedHUMNEWS - which aimed to cover news in the 'geographic gap' of 116 countries around the world. He also founded the online travel platform My Savvy Traveller.
Graduating from Carleton University (Ottawa) in Mass Communications, Michael went on to study TV News from the Columbia University Graduate School of Journalism (Summer Programme).
Michael is currently completing a book on his experiences in the development business - from the relative calm of his home in Sidney, British Columbia.
Journalist, writer and development professional, former spokesperson for the Organization for Security and Cooperation in Europe (OSCE) and UNICEF, TEDx speaker (Canada)