Speakers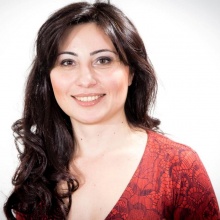 Tatevik Pirumyan
Executive Director of APRA - the Armenian Public Relations Association
Tatevik Pirumyan graduated from the Tilburg University, Netherlands. She holds a MSc in Communication and Information Sciences.
She has over 10 years of professional experience in communication, social media, PR and project management, out of which 7 spent in managerial and senior expert positions. Her areas of expertise include development of creative (marketing) communication & PR solutions, crisis communication, social media management, media relations and project management in a multinational environment.
She is the founder of Communication Management Group, which is one of the leading companies in Armenia that provides internal and external communication and PR consulting in various fields such as high-tech, education, insurance, telecommunication, energy, mining etc. The largest taxpayers in Armenia are among its clients.
Tatevik is also a Board Member and Executive director of Armenian Public Relations Association (APRA) - the first and also the leading association of PR professionals in Armenia.
For the past 7 years she has been teaching Research in PR and Marketing Communications and Social Marketing at several universities in Armenia.
Since 2008, she has been involved in several international projects funded by EU, ADB, CoE, etc. - in her capacity as a Communication and PR consultant.
Executive Director of APRA - the Armenian Public Relations Association