Speakers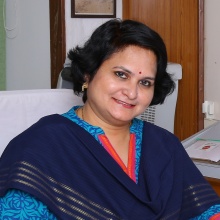 Sabitha Natraj
Chief Manager Corporate Communications, Indian Oil Corporation Ltd (India)
Sabitha Natraj is Head Of Corporate Communications at Southern Region, IndianOil Corporation Limited, India's Leading Petroleum Major, with 25+ years of experience in Marketing and Corporate Communications. She possesses good expertise in loyalty program management, and corporate communications.
Her core strengths include a creative working style to marketing/corporate communication issues, with extensive work experience in organizing events, media management, market driven campaigns, quality and cost conscious working style. She has good communication and leadership skills with the capability to manage a cohesive, harmonious team.
ACADEMIC BACKGROUND
She has completed her Corporate MBA with a Gold Medal in Marketing from Management Development Institute, MDI, Gurgaon, India. She also holds a Masters Degree in Journalism and Mass Communication from University of Madras, Chennai, India and a Bachelor of Arts Degree in English Literature, with a first position in the college from University of Madras, Chennai, India
HEAD OF CORPORATE COMMUNICATIONS, INDIANOIL
Since joining IndianOil in 1993 she has handled various assignments at New Delhi, Mumbai and Chennai in the Retail Sales and Corporate Communications department. As the Head of Corporate Communications in IndianOil, she handles brand publicity, event management media crisis and brand promotions for the entire Southern Region. She is currently responsible for internal and external communication needs in the states of Tamil Nadu, Karnataka, Kerala, Telangana and Andhra Pradesh States of India. She has brought in vibrancy and dynamism to the communication vertical; has made CorpComm to be seen as a 'friendly neighbour' for internal and external publics with innovative publicity techniques
AWARDS AND ACCOLADES
She is very proud of her work rendered for the Khajuraho Dance Festival, in Madhya Pradesh during February 2015, which had commendable customer connect activities both online and offline. This work fetched IndianOil a GOLD TROPHY at the ABCI awards.
Her name is included in the Globally recognized HALL OF FAME list of Public Relations Council of India (PRCI) for 2016. The handling of Chennai rains media crisis during December 2015, converting negative media stance into positive coverage for IndianOil, won a Gold Trophy from PRCI. The various internal and external customer oriented campaigns and programs helped her department to sweep nine awards at the PRCI forum including a Champion of Champion trophy for IndianOil South Zone during 2016. Their work has also been recognized by Press Club of Kochi, Kerala, with four NIB Awards during 2016.
CONTRIBUTION TO BRAND BUILDING
As an executive at Counter Point Advertising, Chennai (1990-1992) she was in charge of conceptualization of problem areas for brands assigned, including working out communication strategies and media promotions. She largely handled the shampoo brand called Chik Shampoo; the sachet revolution was taking roots and Chik shampoo was a frontrunner in the B, C class markets. She was instrumental in creating a distinct positioning of "Fragrance" for Chik Shampoo in 1991-92; The Jasmine and Rose fragrances were launched with this communication plank.
GUEST SPEAKER / FACULTY
Sabitha Natraj is a frequent Guest Speaker at schools and colleges. She has been the Guest of Honour for several inter school and sport events at Ryan International School, Navi Mumbai, where she has delivered addresses. She has addressed Management students at KJ Somaiya Institute of Management on "Significance of Loyalty Programs". She has been a guest faculty for Communications at Indira School of Career Studies, Navi Mumbai. She addressed a large group of Post Graduate Communications students on "Significance of Corporate Communications" at Stella Maris College, Chennai recently.
Her belief:
"I believe that Corporate Communication is a superb blend of art and science; creativity to connect with stakeholders makes it an art; adopting a studied and empirical approach for stakeholder communication, involves scientific, analytical, marketing and social skills. Today's society is not just an information fed society; it is a highly connected society and this seamless connectedness has given rise to unlimited liability for organizations. The power and need for purposeful Corporate Communications has never been more pronounced than what it is today."
Chief Manager Corporate Communications, Indian Oil Corporation Ltd (India)