Speakers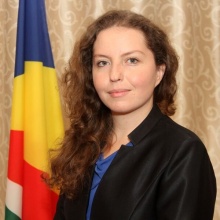 Srdjana Janosevic
Chief Press Secretary at the President's Office, Republic of Seychelles
Srdjana Janosevic was born in Sarajevo, Yugoslavia on 21st June 1980. She came to live in the Seychelles with her parents at the age of 7. Following the breakup of Yugoslavia and the civil war in Bosnia and Herzegovina (1992-1995), she became a Seychellois in 1996.
Having completed the International School at Mont Fleuri in 1996, Srdjana started her broadcasting career with her first job at the SBC Radio as a producer and presenter. Soon she left the Seychelles to complete her A Levels in classical dance and theatre (Hurst Lodge, UK). In 1998 she returned to work in the Seychelles Radio Newsroom as a news journalist and presenter for the Paradise FM Breakfast Show. Srdjana also holds a BA in English Literature and a French degree (1999-2002) from the University of Reading in UK, where she also worked as Station Manager of the Junction 11 Student Radio.
Her past career includes positions such as: news journalist for the Seychelles Broadcasting Corporation TV – with news and documentaries in English, French and Creole (2002-2008), reporter for the Seychelles CNN World Report – today's CNN World View (2004), CNN International Professional Programme Fellow (2006), CNN World Report Awards finalist for the report "Endangered turtles in Seychelles" (2007), and Seychelles correspondent for Agence France-Presse (2006-2008).
In January 2006, Srdjana was awarded the Outstanding Contribution in the field of Media by the PRSOS public relations professional body. Four months later, she produced the independent documentary "Witness" focused on the post-war situation in the Serbian province of Kosovo, and in June 2007 – the "Hidden Treasure of the Indian Ocean", a documentary on tuna tagging research. She was also awarded the British Foreign and Commonwealth Office Chevening scholarship and completed a Masters in Ethics and Political Theory at the University of Reading. Upon her return to the Seychelles in 2008, she continued working at the SBC as a journalist and PR / Website Manager.
In 2009, Ms Janosevic was appointed Press Secretary at the Office of the President, next year - Chief Press Secretary, and in 2011 the post was upgraded to Principal Secretary. After a couple of years, she was in charge of the Department of Information and got involved in setting-up the Seychelles News Agency, where she currently acts as Project Administrator.
Chief Press Secretary at the President's Office, Republic of Seychelles