Speakers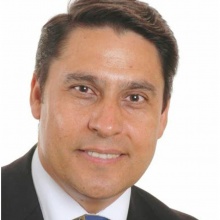 Dr. Jon-Hans Coetzer
Chief Academic Officer, EU Business School Group (Switzerland)
Dr. Jon-Hans Coetzer, currently Chief Academic Officer at the EU Business School Group, is a renowned expert in the field of International Public Relations and Diplomacy.
He was also the former Chief Academic Officer (CAO) of Glion Institute of Higher Education (GIHE), responsible for overseeing overall academic integrity for all operations related to academic leadership, curriculum, personnel management of the academic, budget planning and fiscal management divisions. As a member of the Chief Executive Officer's leadership team, Dr Coetzer worked collaboratively across multiple campuses to ensure the advancement and strength of GIHE. He was committed to promoting the highest levels of student retention, satisfaction, and engagement, and supports faculty work that increases student engagement and the advancement of the disciplines, as well as setting the scholarship agenda and executing that agenda via the Executive Deans.
Graduated from Geneva School of Diplomacy and International Relations, in 2011 with a doctorate qualification in International Relations, Dr Coetzer has also completed the Bachelor of Arts in Tourism Management studies at Breda University of Professional Education, the Netherlands and a Master of Arts in European Tourism Management (2002) qualification from Bournemouth University, the United Kingdom.
Dr. Coetzer has extensive senior executive management experience in the higher education sector. Prior to his appointment as CAO of GIHE, he was the Academic Director of IHTTI (from 2007 to 2009), the General Manager of Geneva School of Diplomacy, Graduate Programme Director of the University of Business and International Studies (UBIS 2013), Geneva and the Academic Dean of the European University (from 2013 to 2015).
To complement his robust academic qualifications, Dr Coetzer is also an active professional with ample industry experience, including his engagement as a Regional Delegate of Red Cross' International Committee (1997 to 2001); United Nations Institute of Teaching and Research (2013 to 2014); Project Coordinator for Strategic Crisis Management of the Swiss Federal Government, to name a few.
Chief Academic Officer, EU Business School Group (Switzerland)