Speakers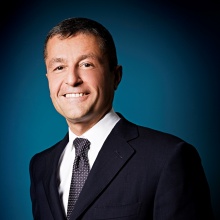 Andrea Cornelli
Vice President and CEO of Ketchum-Italy and PR HUB coordinator (Italy)
Born in 1962, he began his professional career in 1981 and founded C&T, one of the first Italian company dedicated to design information and communication technology systems. He get in touch in 1986 with RP Partners (later Ketchum Italy), a leading PR agency which he began to collaborate with since 1988.
In 1994 he gained control over Telemacus, a company operating in the Digital Market Strategy business; this laid the foundation of a strong and synergic activity with Ketchum, realizing since then the communicative potential of the digital world.
In Telemacus he became CEO in 1998, and accelerated the process of analysis and development of innovative communication strategies, digital and beyond. He gained specialist expertise that will lead him to become President in 2003 and later also CEO of Ketchum Italy. In 2013 he has been appointed Global Partner of the Ketchum international network.
He was part of several PR Awards juries: 2011 Cannes Lions PR, 2012 Eurobest PR, 2012 Sabre PR Awards, 2012/2013/2014/2015 Romanian PR Awards, 2013 NC Digital Awards, 2014/2015 Mediastars, 2014 OMI Awards, 2014/2015 Cultura+Impresa Awards, 2015 Sodalitas Awards.
From 2009 to 2013 VicePresident of Assorel, one of the Italian Association of Public Relations Agency. From 2014 to 2015, President. In 2015 he joined Assocom/PR Hub.
Vice President and CEO of Ketchum-Italy and PR HUB coordinator (Italy)