Speakers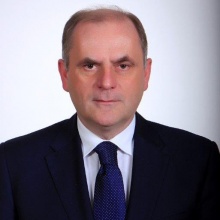 Goran Filipovic
Board Member of Jadranka d.d. and Jadranka hoteli d.o.o.
Goran Filipović, Board Member of Jadranka d.d. and Jadranka hoteli d.o.o., was born in 1964 in Zagreb, Croatia, where he gained his formal education.
In his 20-year-long, rich professional career in the sales sector of leading Croatian FMCG companies, such as Badel 1862, Jamnica and Zvijezda, as well as multinational Alllied Domecq and Coca-Cola Company, he has attended a whole range of professional training events and seminars gaining valuable knowledge in sales and marketing.
At the beginning of his professional career, from 1989 to 1993, Goran Filipović performed different positions in the movie production industry, working for the Filmmakers Association of Croatia - Jadran Film - on domestic and international co-production projects as transportation, organization and unit production manager. In this period, he has gained vast experience in logistics and management, and extended his professional network.
From 1993 to 2013, Goran Filipović was appointed to managerial positions in sales, overseeing sales and distribution activities of leading domestic and foreign soft and strong alcoholic beverages. In 2002 – 2003, he served as Vice-Chairman of the Board of the First Croatian Commercial Group, CBA – the first joint venture of several local retail chains with a purpose of achieving stronger position on the Croatian market.
In 2013, he joined Jadranka d.d and Jadranka hoteli d.o.o. and as a Board Member of two companies, he has had important role in overseeing retail, sales and marketing, as well as procurement activities.
Goran Filipović is fluent in English, with passive knowledge of German, Italian and Slovenian languages. He is active in sports, particularly indoor soccer ("footsal") and tennis, and is a great admirer of the automotive industry. He is married and has three children.
Board Member of Jadranka d.d. and Jadranka hoteli d.o.o.